Jamie's First Meet...Seattle '96
---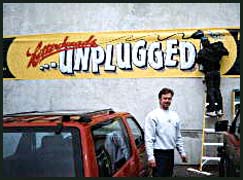 I've been writing signs since 1969, and like many of you, I have followed the meetings of a group called The Letterheads in our trade magazines. I have often been inspired by their works and enlightened as a sign artist by their informative published articles. Much in awe, I often thought it would be nice to be able to attend one of the gatherings, but I always let distance and the lack of confidence keep me away.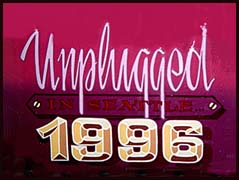 That was before I discovered the Letterhead Website and became involved with our live Letterhead Chat channel on the Internet. With the urging of several other Letterheads that I met there, I overcame my reservations and attended my first bash this past weekend.
I grabbed my wife's camera, several rolls of film and dashed around the area trying to capture 27 years of signwork in one day. After a quick trip thru a One Hour Photo, I was able to put together a portfolio, and at 6 a.m. the next morning I was on my way to Greg Reid's sign shop in Seattle and The Puget Sound Letterheads' Unplugged '96 Bash. The trip is 85 miles south of my home in Anacortes, Washington, and even though I'm 53, I was as nervous as a 13 year old on his way to pick up his first date.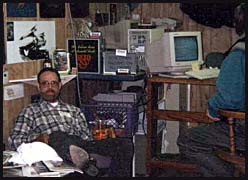 Well let me tell you, there was no need for nervousness. I got there early and was greeted warmly by Greg Reid and Kent Smith. There was already a few Letterheads with brushes in hand working on the welcome banner and before long, I too was at the task. I ask you, how could one feel at all out of place with a brush in one hand and a cup of paint in the other? That was the beginning of the greatest day I've ever had as a signwriter. From Kent's Letterheads' Induction Oath to the last crossed T, I met probably a hundred Letter & Pinheads. I watched as each worked his own magic, some with letters, some with pinstripes, some with airbrushes and some with carving tools, to mention a few. I found myself lettering out a panel, laying down a few stripes, and being totally caught up in the day.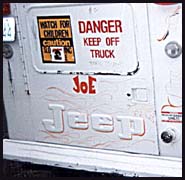 Of course, like all events, there is always something that crops up to alter the normal flow of events and this day would be no exception. This days event altering something came in the form of an ice cream truck driven by Joe. As Joe began selling his ice cream the line began to grow, and while Joe was preoccupied, lines also began to grow on the ice cream truck as striper after striper demonstrated their skills. When Joe finally left, after selling considerably more product than I'm sure he was used to selling in a whole weekend, his little rig was sporting all sorts of fancy stripes and filigree.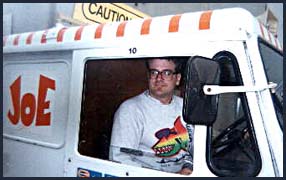 That brought us to the second altering event of the day, Joe came back for a second visit late that same evening. This time though, he came in the escort of several of Seattle's Finest. That's right, we all got to meet several Seattle Police officers. After some calm discussion we concluded that the stripes could and should be removed. With the collective abilities of all those present the stripes were off in a matter of minutes and to compensate for any inconvenience to Joe we purchased the remainder of his wares. I must add that the officers were a credit to what their uniform stands for. They both had a sense of humor but never the less they kept a close watch on the front of the van while we removed the stripes from the back and made our purchases.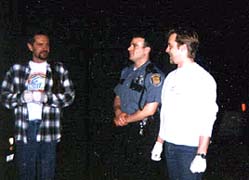 My only regret is that I was only able to attend the event until very late Saturday night and not able to stay over for Sunday's fun. Neil Woodgate of Buffalo Signs, a regular Letterhead Chat user, brought along his computer and we were able to share the event online with other sign people around the world. John Serjeant, known on Letterhead Chat as "Sarge", was even able to attend online from his home in South Grafton, Australia. This could be the start of a new tradition at future gatherings. Pretty exciting stuff!
In closing I would like to address all those, who like me, have often thought of attending a Letterheads event, but let lack of confidence or whatever, keep them from doing it. Don't procrastinate any longer. Do yourself a great favor and just go. You'll not regret it! I found no over inflated egos in attendance there. Just people like you and me, fellow craftsmen willing to share their skills and encourage each to a greater understanding of our craft. John Hannukaine tells me that each meet gets even better. Over the last couple months I have given consideration to attending the National Meet in Fargo, ND. Before this weekend it was easy to come up with the usual excuses like money being tight and too much work to do. Not any more! I'm just flat out going....that's it...game over... and I hope I get to meet all of you.
Jamie Harju of Jamie's Signs, Anacortes, Wa. Also known as Fontzy on Letterheads IRC Chat.
---
[ Letterheads | Join Us! | Bulletin Board | Find A Letterhead | Magazines | Events | Our Suppliers ]
---
Copyright © 1996 TheLetterhead Website