Memories Of Fargo
by Tom & Kathy Durham
---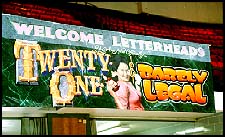 Fourteen hours to Fargo.....from St. Louis. hmmmm. Well this is not an exciting drive, but we packed up our clothes, threw in our projects and paint kit and off we headed. First we stopped in Kansas City where we met Jack Desplaines from Silver Dollar City. He had asked for a ride so we squeezed him in and off to the north we headed.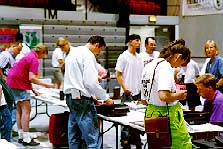 We had decided not to attend the University part, so we were there just for Saturday and Sunday. The first thing to do in Fargo was to find the Convention Hall and check out what was going on. With the University winding down we did little but check in, grab our freebies and head to the hotel. After that it was off to the hotel bars to meet up with old friends and meet new ones.
If you have attended just one Letterheads Meet somewhere you are bound to run into someone you know. I've been going to them since the Kansas City meet and Kathy has been to several so we soon saw people we had grown to call friends and of course had lots of respect for.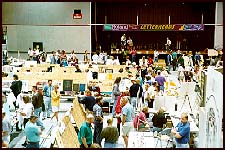 This is probably the best reason to keep going back to the meets. The feeling that comes over you is somewhat undescribable. It's kind of like stepping into one of your favorite magazines and there are all those people that make our business so great. Who else understands our way of thinking but those crazy Letterheads. They actually know what your talking about, the good and the bad. Yes these are the people you look forward to seeing...can't wait to see.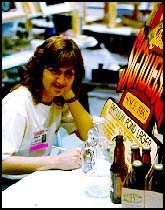 Oh yeah the convention. The hall was great. The vendors were all there. Booths formed a ring around the outside of the space with easels set up throughout the rest of the space. It didn't take long for the cans of paint to be opened and new sign creations started. It's alway amazing what our fellow Letterheads come up with on their project panels. Most of the "famous" sign people were there, but equally talented people newcomers showed their stuff with everything from airbrush to striping, hand lettering to carving.
There were no planned seminars at the Saturday and Sunday sessions. Too bad. I miss those days of impromptu groups getting together off to the side and discussing and demonstrating. Maybe it'll come back, maybe not. I'm sure those attending the University got way more than they bargained for. Still, how can you discount the experience you make for yourself? Walking around, watching everyone work and stopping to talk creates that excitement you take back home each time from a meet.
Food was served downstairs and was very good. Saturday night we were entertained by a band in the hall. They had a good sound, a mix of all types of music, but just a bit loud for the arena. Still this didn't deter those wanting to continue to work or just relax and listen. After the band stopped some of the more "talented" sign people got their own band going with air hoses and cans. Hey, use what works. I called it quits about 1:30 am but rumor has it that some stayed up all night. Sunday morning the convention center was again busy with all those who still had to do more to their projects or maybe try one more thing someone had showed them. It was like Saturday hadn't stopped but just ran over into Sunday. How fast the hours go when the excitement never stops.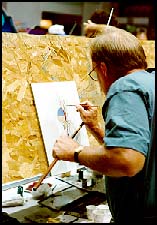 The first Letterhead Meet one attends is always the best! You never forget how your head is filled with all the new ideas you just learned. Christmas was never this good. And of course how many of us used something we learned at the meet on the very next job after we got home? Well that excitement dims a little as you continue to go to the next one and the next one but you never admit that you've had enough. Every meet holds something new. Something that you forgot to learn at the last one. Something that will be a whole new method or just something. These Letterhead Meets are in your blood and you want to go to each one throughout the US. Unfortuniatly it can't be, but there will be another one we will attend and we will be just as excited.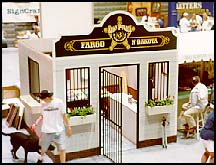 Of course we have to mention the host, Super Frog and his group. It's got to be a monumental task holding a national meet and like all his predecessors he pulled it off in great style. Thanks go out to him! Of course not to mention a ton of sponsor door prizes. You'd think I'd bring one home? Not. Oh well.
Sunday afternoon and its fourteen hours home. Tired, but just can't wait to try ????? on the first job when we get back. Hoping to see all of our old friends and the new ones very soon. If somebody out there hasn't gone to a Letterhead Meet yet, you just don't know what you're missing.
---
[ Letterheads | Join Us! | Bulletin Board | Events | Find A Letterhead | More Meets ]
Copyright © 1996 The Letterhead Website