Hand sketched very roughly and the penned over with black ink. The bird illustration was changed as the client preferred horses.


workings out for some of the 6 tones of acid etching. The illustration was hand vectored ready for cutting by plotter.
there are a total of 4 panels x2 at 27inches by 22inches x1 at 4ft x 3ft and a smaller panel at 20inches by 17inches.
This is why I vectored the design to speed things up and avoid all the hand cutting plus the computer can cut alott smaller detail and much quicker than me.
I made a drawing showing me where to start my brilliant cutting ,once the cutting was finished and polished I matched up the areas for acid etching the first white tone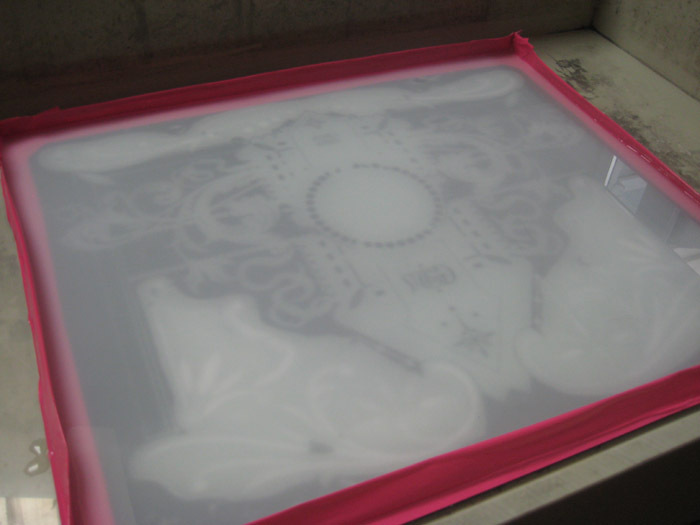 This shows the resist covering the glass cutting and exposing the areas for white acid. a combination of hand cutting and computer was used as it was impossible for
exact positioning of the resist plus it is tradition here to give the brilliant cutting a white acid etched line around the cuts.
The tone was toped off for 8 minutes ready for the first acid tone. A top off is when the acid is cut back before any work is done. If I silver straight onto the first tone of pure white it would look like dirty sandblasting and not have the correct shade for a silvered panel .A top off effect would not be needed for glass which goes into pub windows which lets light through.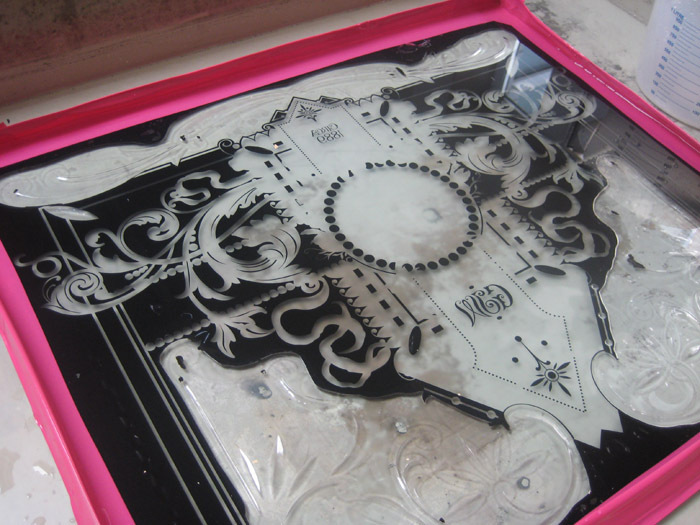 phase 2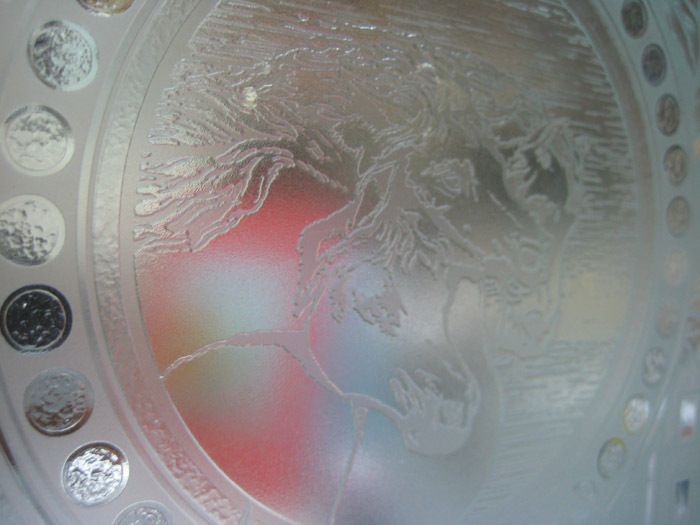 acid etched for 30 minutes 2 acid to 3 water strong mix but enough to get instant depth to the work.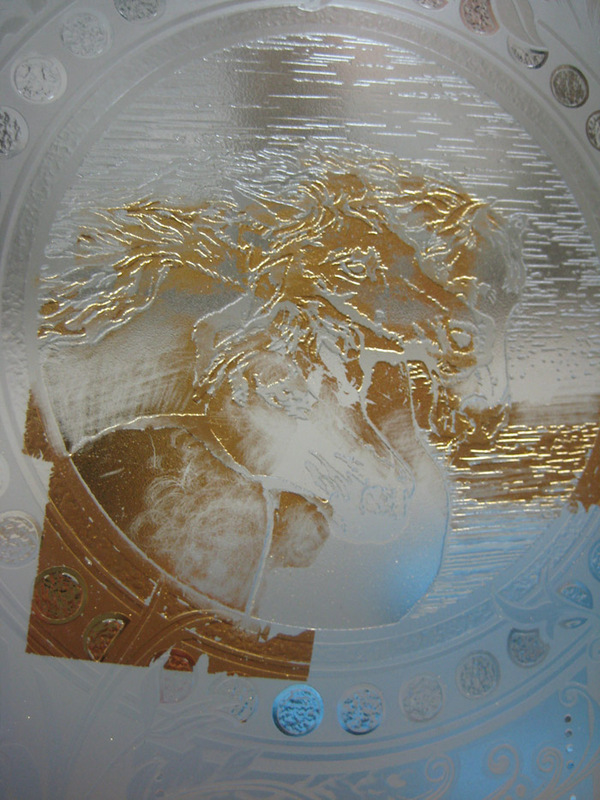 first layers of gold water gilded. scratched areas and shaded using different tools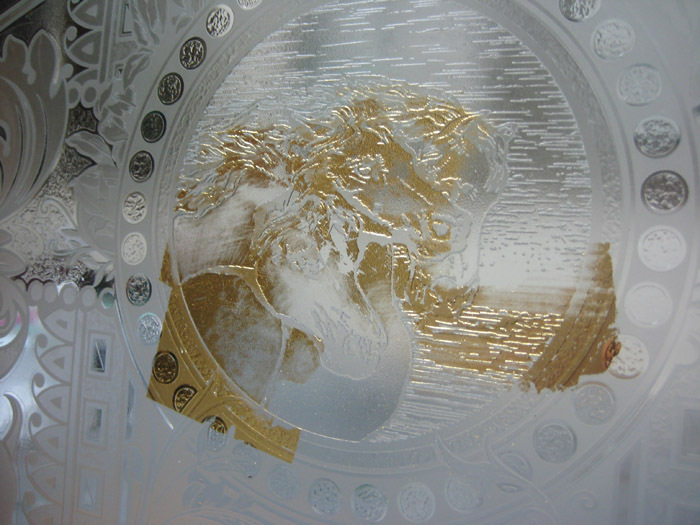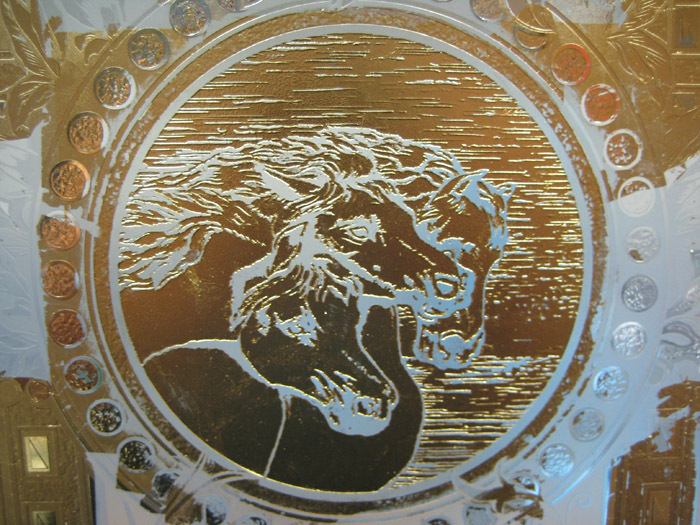 23 crt gold water gilded with the back scraped over using a Stanley blade which knocks off the highest points of gold leaving the etched gold areas aloan and makes the clear lines.



more shades of gold added to give highlights in some areas and to make it look old
First of all Happy
areas recovered and parts removed for acid mica texture.




now I have jumped forward with this shot.The panel is covered with clear vinyl
any areas I choose to etch now would need to be hand cut. On the border you see mica again with a fine small stipple to it.


2 shades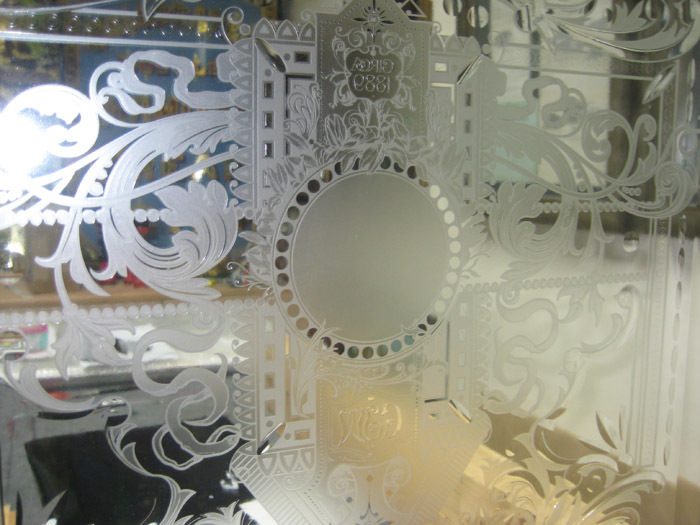 3 shades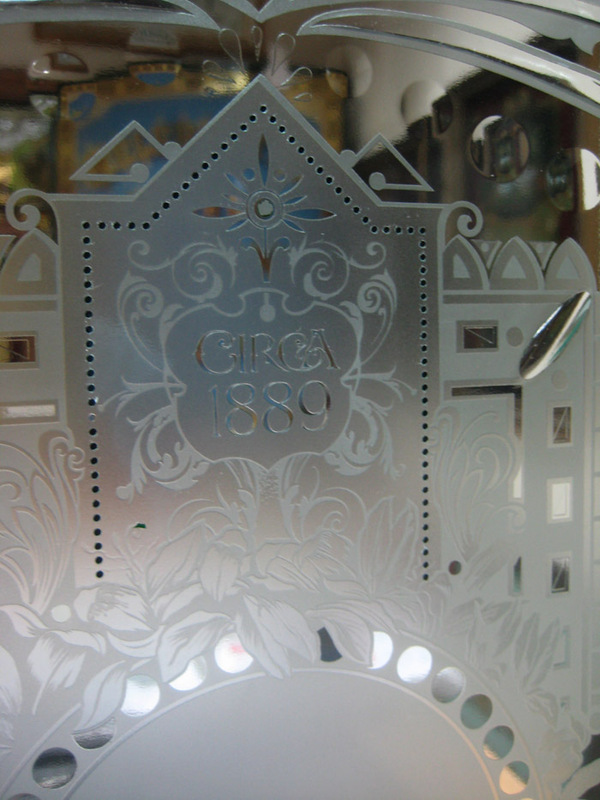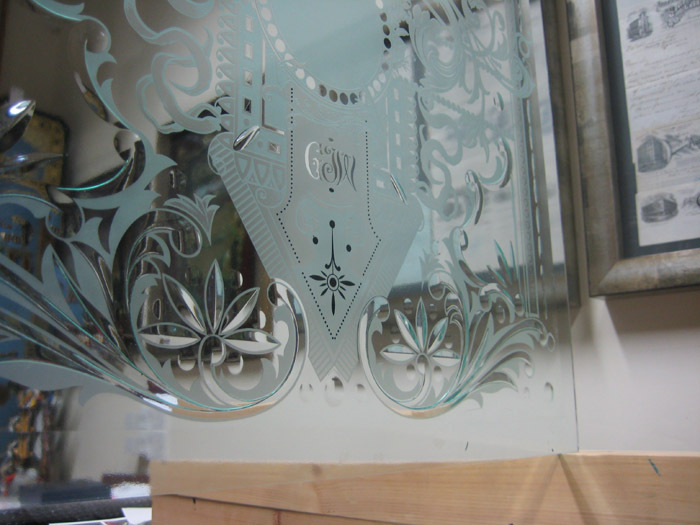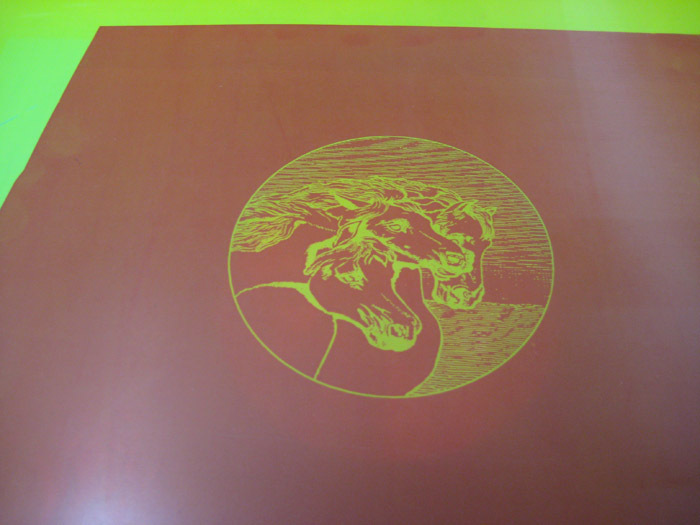 Hand drawn horses and black penned for light exposure for burning to screen


printed 3 times with ashaltum resist paint.The centre section circle was acid toned for a further 15 minutes to cut back the white tone even further before the print was made.
a similar technique to orbital sanding with 3 microns powder prior to acid etching factory buildings.