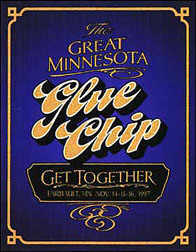 Chippin' Away At Daves
On November 14, 15 and 16th., 35 Letterheads gathered at Dave Corell's sign shop, Brushwork Signs, in Faribault, Minnesota. They came to do some glue chipping, lay some gold and share some good times together. One of those attending was Samantha Bork from Minneapolis, our own "Sam" from Letterhead Chat. Our thanks to Samantha for sending in these photos and her impressions of this meet. Great job Sam!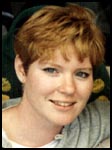 We arrived at Dave Correll's shop (Brushwork) in Faribault, MN about 4:00 pm on Friday, Nov. 14th. Most of the 35 registered Letterheads were already there, and doing something to keep themselves busy. A large banner was being painted and some people were already busy working on fun projects. Everyone was greeting old friends and making new ones! Right away I recognized a few faces from WallDog Daze, my first Letterhead Meet, held this summer in Belvidere, Illinois.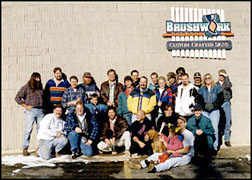 In the early evening, Doc Welty and David Butler arrived, and then "intimidation" set in. Up until then, I wasn't feeling too uptight, but when I saw them, I almost felt paralyzed! It wasn't long before I realized there was no need to be scared. In fact, they're very helpful and easy to talk with. Just ordinary people with some extraordinary talent and experience, who just happen to put out a magazine and be well-known in the sign business.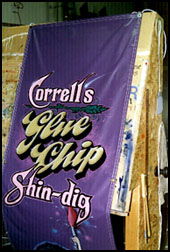 In order to save time, all the panels were chipped before our arrival. We got to see them get screened, and then Dave Correll gave us the choice of gilding our panels with water size or angel-gilding. Ten of us went with angel-gilded panels, while the rest did traditional water gilding. The angel gilding was actually done by several people who had some experience with it, as it seemed to be a somewhat touchy process. Chemicals have to be mixed just right, applied at just the right time, etc. The process wasn't working quite right at first, but once they got it figured out, everything seemed to go smoothly.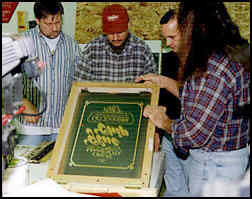 Saturday, we backed up the parts of our angel-guilded panels that we wanted to remain gilded. Then, the gold was removed from the rest of the panel and we could begin painting. It was great to see how creative some of the people got! There were all kinds of things going on...the amount of talent in that one room was amazing!
At this point I have to make a confession. This was my first time using a lettering quill and One-Shot. It was so cool! I loved the way the paint flowed from the brush. The others taught me how to load my brush, how to use a palette and hold it properly. Later I learned how to clean a brush and finally how to preserve the hair with brush oil. I realize it's just the tip of the iceberg as far as signpainting goes, but now that I've done it once, the next time will be easier. My initial fear of painting is gone. :)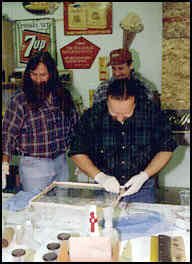 Saturday night we all went to a great dinner at The Depot in Faribault. After the dinner, some of the Letterheads fortunate enough to attend the recent Letterhead Meet in England this September, presented a short slide show of their trip. Mike Meyer, of Mike Meyer Signs, Mazeppa, MN, also threw in some slides of signs from the 1950's for some humor. They really got me wondering just *why* they used all those balls and circles back then?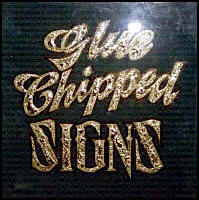 After dinner, it was back to the shop for some late-night painting. I was honored to be able to sit next to David Butler and share a table with him...what a nice guy! He was working on a beautiful project that he had brought with him. It was a something he'd designed about 5 years ago, and it was *incredible.* His abilities amaze me! It was fun to see it progress from the beginning, just a glass panel with the design screened on it, to near-completion. It was painted, water-gilded, and he was going to set some abalone into it. In some of the gilded parts, he used a thick coating called Damar varnish and then inscribed some squiggly lines in it with a toothpick to give it some texture. I saw Larry Whan do this in Belvidere and thought it looked really neat there, too. Unfortunately, we had to leave for home before Dave finished his panel. What a shame! These guys are so full of great ideas - what a level of ability to strive for!
Sunday, we finished painting our panels and chatted for a while before heading home. It was an awesome way to spend a weekend, and worth every bit of time. I feel more comfortable with some of the techniques that, until now, I had just heard or read about. Now, I'm really looking forward to Bloomington, Indiana in June '98...and any other meets I can attend before then. I'm addicted! :)