WallDog Rendezvous...The Walls!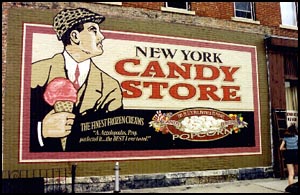 This 32 foot beauty is a tribute to the New York Candy Store. This turn of the century confectioner later evolved into the New York Store and featured house furnishings, china, glassware and confections. Gary Anderson and his team of Letterheads won the honour of creating the first mural completed.
The "Belvidere Seed Company" pays homage to Boone County's agricultural heritage. This blended beauty was created right across the street from the New York Candy Store and there was lots of hijinks going on between the Noel Weber crew and the Anderson bunch across the street. Thanks for this wonderful mural Noel!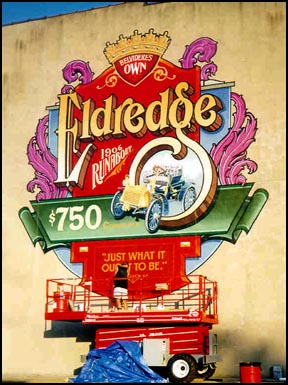 The 1906 Runabout, a Model A once produced in Belvidere, is featured on this 30-by-30 foot. This work of art now dominates the north face of Style House Furniture in downtown Belvidere. Thanks to the Mark Oatis team for this masterpiece.
A team led by Bill Hueg gets the applause for the creation of this 1900's streetscape. This was the largest mural at an average height of 35 feet and a whooping 80 feet long. The artwork for this gorgeous work was actually projected on the wall at night while an army of Letterheads traced the image. Ain't it pretty?
A locally manufacured bicycle known as "The Lady Diamond," was recreated in this 10-by-20 foot by Steve Estes and his wacky crew of Letterheads. The National Sewing Machine Company, a manufacturing giant in Belvidere for more than 75 years before closing in the early 1960s.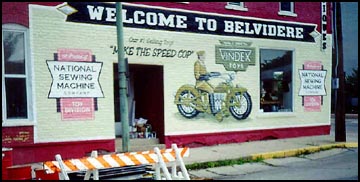 Jeffrey P. Lang and his team are responsible for this 13-by-25 foot mural. It features a 1930's toy motorcycle policeman which was produced by the toy division of the National Sewing machine Company. Neat!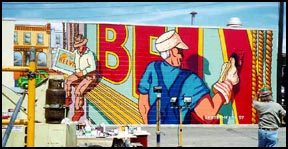 Here is a mural that depicts two old "walldogs" working on a "Welcome To Belvidere" sign. This bold, colorful piece was created by a group led by Raymond & Renata Guzman and is 14-by-40 feet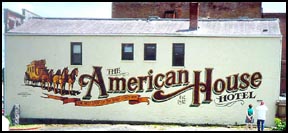 Built in 1842, The American House was one of the most well-known hotels in northern Illinois. The hotel also served as a stagecoach stop on the Chicago-Galena route. Elaine Wallis of Niagara Falls, Ontario, and her enthusiastic team get the credit for this 60 foot landmark.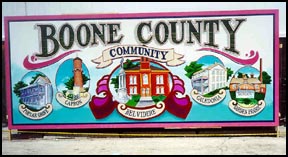 Belvidere High School students, led by teachers Kit Scheidenhelm and Troy Yunk, created their own work of art on the Chamber of Commerce building. Historic landmarks in Boone County are recreated on the mural. Nice work gang!
Main street in smalltown America was captured in this bright and colorful mural created by Nancy Bennett and her team. Very nice!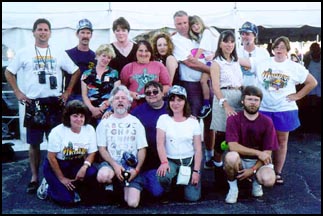 These are just a few of the Letterhead Website Chat Pals who used the WallDog meet to meet each other in person. Felt just like a family reunion! If you have never tried Letterhead Chat, we urge you to click here to learn how. We are here to help you if you get stuck. E-mail us or phone 519-787-2673.
Want to see some more WallDog photos? Mayo Pardo, alias Empy on IRC, has a few more tasty pics at his website. Click here to view them.

[ Letterheads | Join Us | The BullBoard | Events | Find A Letterhead | Suppliers ]
Copyright © 1997 The Letterhead Website