These particular signs and posts are clear all-heart redwood but, the procedure would be the same for any wood sign. Carefully remove all hardware from the wood components and set aside. Good hardware, like stainless steel or galvanized lag screws, not only lasts longer and looks nicer, but also makes for easier removal years later when it comes time to restore.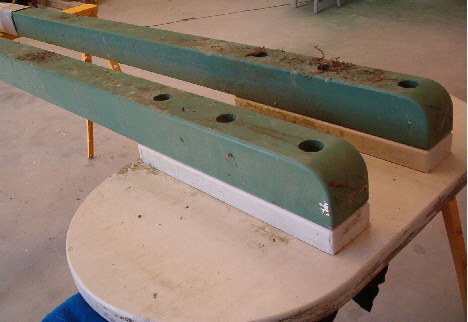 Mix a solution of one part household bleach to 4 parts water. Cover the entire sign and allow the solution to work for about 10 minutes. Carefully scrub with a soft bristled brush and rinse off thoroughly with a garden hose. Lean the sign up against a wall and allow to dry for awhile...go log onto Letterheads or something.
After the sign is dry, remove all loose paint with an oscillating sander. Dust off and check thoroughly for cracks, delamination, or decayed wood. Fill the cracks with a two part epoxy; we prefer West Systems brand for doing this. If there are any holes, you can mix in some sawdust with the epoxy, fill them in, and allow to cure. Sand off level after curing is done. Really large booboos can be repaired with a piece of whatever wood your sign is made of. Rout the area out with a hand router, then cut a piece of wood and glue it in with the epoxy and sand off. You know the routine. I usually use a belt sander to sand off the excess but, I'm brave.
Yeah..that's it Braveheart! That's me.

With the paint sanded down and necessary repairs made, dust the sign off thoroughly with a tack rag or soft bristle brush and compressed air. Coat the entire sign with water-based solid color stain.(the green) I mix 12.5% H2O to the gallon(fancy way of saying 1 pint per gallon) and spray on with an HVLP gun. Use two coats. When this is dry, you can then spray on two coats of acrylic latex paint if you want, or skip that and begin painting the raised graphics. We began by using solid color stain for backgrounds, years ago, but found that it chalked and faded faster than acrylic latex paint. Now we just use it for priming and it does an excellent job. We use acrylic latex on all of my redwood signs. "WE" is my wife, LynnDee, and I. But since only "I" am typing this, "I" will add more tips if I think of anything else later.....