I would start out by cuttin the styrene to exact size. Then I would take the graphic and trim flush to the bottom corners. The bottom corners on the graphic would align to the bottom corners on the styrene. If the graphic were slightly larger or slightly smaller than the styrene, I would make the alignment on both sides equal.


With the graphic and the styrene aligned, I would tape to the table at the bottom corners. Then I would apply a tape hinge right down the middle.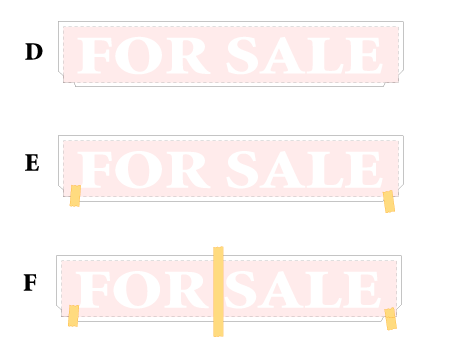 I would unfasten the tape at one of the corners, and pull the graphic back. I'm missing a step in the pictures. It's actually easiest to fold the graphic back onto itself, and then pull the release liner back to the original position, which would result in G.

It's easy to start a small tear in the release liner near the tape. Then that section of release liner can be torn free, revealing the styrene.


I would then swing the graphic back almost to it's original position, elevating it with just enough tension to keep it from tacking before I can squeegee it. Too much tension influences the way it lays down, and usually ends up with the vinyl slightly crooked. I let gravity do most of the work as I squeegee up and down from the tape hinge to the end of the graphic. I change squeegee stroke direction at the very end of the graphic to keep from getting wrinkles at the end.

I never wet app this type of thing, and I rarely have a problem with alignment.
It does take practice to tear the release liner without a fuzzy edge. If I get a bad edge I fix it before continuing.

The alignment is also a concern, especially if the substrate is light. There is a way to attach the substrate to the table, and still run the vinyl flush to the corners. It involves taking two pieces of tape, and sticking them together with a healthy offset. The tape stays under the substrate, rather than on top:

I can't remember where I saw this first, but it works great.