Hope this will help those who want to make a small sandblast cabinet. I made it from your standard laundry tub available at any hardware or home improvement outlet.

Cut two 4" holes to allow for 4" PVC couplers. These pieces of PVC should be about 3" long so you can hose clamp a pair of 14" rubber gloves to the outside of the 4" inserts inside the cabinet.
Another hole 1" in diameter, is cut in the front of cabinet to allow for the sandblast hose. This hose passes through an EMT conduit connector. A 2" hole for vacuum hose has been cut in the side & hooked to a shop vacuum. This hole size should be made to fit your vacuum system. A piece of safety glass, 21 3/4" x 24" covers this cabinet.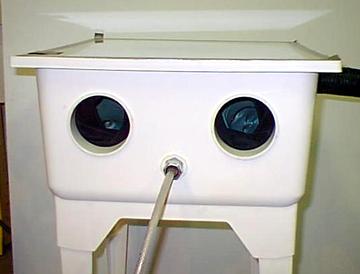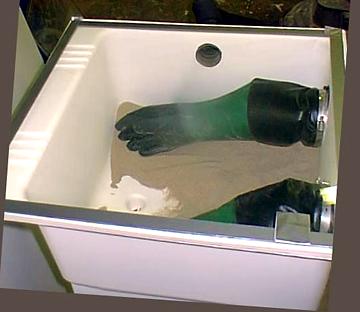 I have used this cabinet for blasting beer mugs, coffee cups, mirrors and any small piece of dimensionally carved glass. This sink comes with a drain plug you can remove when you want to reclaim your sand. I find you have to cap the end of the drain pipe below the plug. The vacuum will have enough suction to pull the plug out. There is a fitting on the bottom of the drain pipe you can put a piece of plastic in to cap this drain.