Pictured is one of my part-timers, Dana. At the time these photos were taking, she had been with us for about six months. She had no experience when we hired her in January, 2000. Here, she is at "The Canvas Shop", one of three awning companies that we service. At this writing, she is now in charge of all awning graphics.
1. Cut graphic from intermediate vinyl. In this case, we used Oracal 651. Reverse weed the vinyl. Mask with a "Low Tack" transfertape.
2. Flip the masked graphic face down and remove the liner.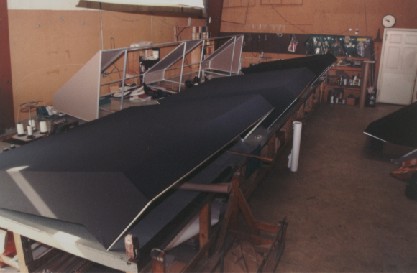 3. Spray 3M Super 77 Spray Adhesive onto the adhesive side of the vinyl. DO NOT SPRAY ADHESIVE ONTO THE AWNING ITSELF. When spraying, be careful not to let large dime-sized bubbles develop in the adhesive.
4. Apply the graphic to the awning and squeegee as you would onto any other substrate. Carefully remove the transfer tape. The adhesive will not have a tight bond to the fabric, hence the need for "low tack" transfer tape.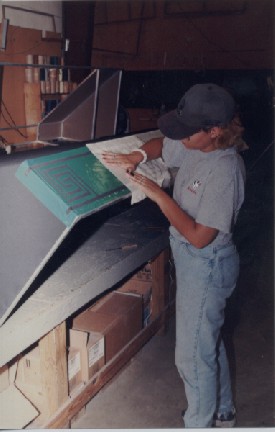 5. After removing the transfer tape, re-squeegee the vinyl graphic paying careful attention to the edge of the graphics. You want to make sure the edge has adhered to the fabric.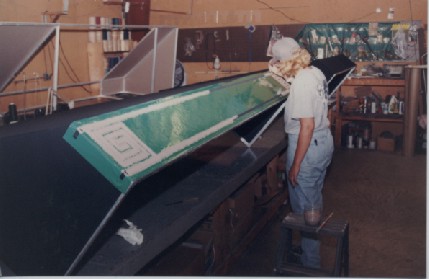 6. Using NazDar Premaflex Ink, apply the ink using a fitch or an artist's china bristle brush. Work the ink from the vinyl toward the center of the letter or stripe. The goal is to avoid accidentally pushing the ink up under the vinyl mask. Because the ink is thick, it will not run or bleed. DO NOT THIN THE INK. Depending on the color of the fabric, you may need to apply two coats. Normally, we apply a thin coat followed by a much heavier coat. You do not need to wait for the first coat to dry before applying the second or third coat.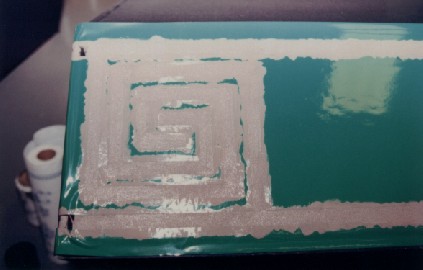 7. Remove the mask and let the ink dry for about 24 hours. If you accidentally pushed some ink under the mask, don't panic. Let the ink dry thoroughly and scrape the excess off with an Exacto. If you have any adhesive residue left on the fabric, normally caused by applying too heavy of a coat, simply lift off using the sticky side of a piece of packing tape. The glue will come up cleanly.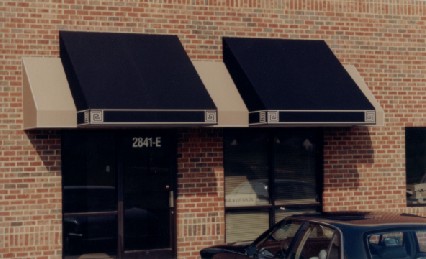 And "Viola"! The completed job after installation. The entire project from start to finish took Dana six hours to complete by herself. There were four awnings in the entire job.