Truck Graphics 101
By George Perkins
This step by step will cover some basic 18 wheeler graphics. I stress the word basic here as these will be produced using the most basic of techniques. This type of work makes up the bulk of my business. If you can get with a truck dealer with any volume they will keep you quite busy. Truck dealers are nothing like auto dealers either. No pressure, no rush, no suits, my kind of folks.

Pinstriping has been very popular on big rigs for about 15 years. International used ihand striping on a model called the Eagle starting in the seventies and it has taken off from there. Owner operators like to personalize their trucks. Many refer to the striping as tattoos.

These truck jobs are an excellent place for those of you learning to stripe to try a few designs without commiting to striping the entire truck.

List of materials needed
One Shot lettering enamels in various colors
Penetrol
One Shot reducer
X-acto knife
3/4" flat
fine line tape 218 series 3M 1/4"
3/4" masking tape 3M
Dupont 3812 or a wax and grease remover
Isopropyl alcohol
a few sponges of different kinds
stabillos , blue and white
optional, sword striper of your choice
Along with these items, an eye for designs is helpful. Look in car mags , the ones that cater to sport trucks are especially good. SignCraft and Autographics have some nice stuff in every issue. I try to use a design which is sleek in nature and not overpowering. Something with class that imparts a feeling of motion. Good color use is probably the most important thing when doing these rigs. Use something different to set your work apart from the rest. Take the most obvious choice and throw it out the window. Be different. Look around for good color choices. Don't limit yourself to vehicles either. Kids toys are great for interesting color combo's. Womens sweaters are another. Color use is everywhere just take notice. Pastel colors work good as do hot colors. I try and feel out the customer as to their preference. Check out the size of his belt buckle for an indication of his tastes. Don't be suprised if you are dealing with a women. Many ladies drive these rigs. I carry a color wheel with me for times when I get truly stumped.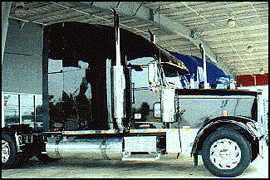 Fig. 1

Here is our subject. A 1998 Freightliner Classic XL Raised Roof Sleeper Cost...$108,000

The first step and the most important step is the preparation. If it's dirty or covered with stack soot I'll start with a cleaning with a suitable all purpose cleaner like 409 or a spray glass cleaner. I'm lucky here as this one just came from the wash bay. I clean all the areas that are going to get the graphics or striping with Dupont 3812. This is a straight enamel reducer that I prefer to wax and grease removers. I follow this with a cleaning with some alcohol. In both instances I use a wet paper towel followed by a dry one.This catches some types of wax that removers wont . It also leaves the truck surface squeeky clean. Paper towels will scuff the surface slightly which helps adhesion. DO NOT skip these steps or it will come back to haunt you. DO NOT assume that because it is new there isn't any wax on it. The total cleaning time here was 7 minutes.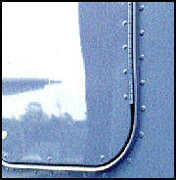 Fig. 2

This is a type of hinge you will run accross on certain model trucks. Notice how it curves out and away. It's a real pain to tape over and should be avoided if possible. If you have to cross it do yourself a favor and go straight and not at an angle or on a curve.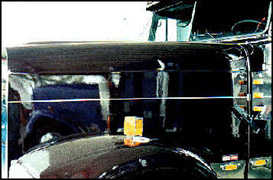 Fig. 3

Here I have started the design using 1/4" fine line tape. I try to use a straight line in the design which makes it easy to duplicate on the other side. Most of my customers tell me to do whatever I feel will look best. This owner, however, picked this design off another truck I did earlier in the week. These designs go on the hood sides and also get repeated on the side of the sleeper cab. I keep all my tape and x-actos, paints and brushes, waste basket, everything I am going to use on an Inflite work cart. It follows me around the truck keeping everything I need at my fingertips. I work all four spots in order. Taping all four, painting all four etc.
Fig. 4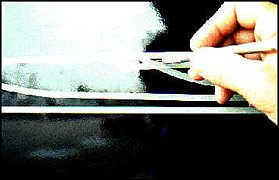 Here I am cutting the fine line tape where it overlaps into an area that will get painted. Be careful here! Use just enough pressure to cut the tape
Fig. 5

Use your fingernail or a squeege to push down the area where the tape crosses over another piece of tape. Skip this step and you will get a little spike or bleed through that you will have to contend with later.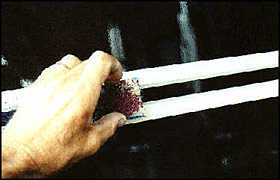 Fig. 6

Usually customers just turn me loose on these things. This guy not only picked the design he specified a color to go on it. Although it looks black in the pictures the truck is black cherry. A metallic black with a red pearl over it. A pretty color but not an easy one to work on. The customer wanted "a sort of pearl white". I try to figure what will go with a pearl white and black cherry and settle on reflex blue/process blue with blue green/ dark aqua. When in doubt about colors put a smaal dab on the truck to see how they look together. In this shot I am applying the reflex blue with a scouring pad. I start heavy and fade out twards the rear. This area can be closed in or open at the rear as this design is. Notice that the backside of the pad has been used already. Waste not want not. The same effect can be obtained with a texture roller. You can get some interesting effects here by laying down some fine line in different patterns before applying paint.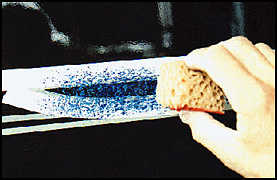 Fig.7

Now get a sponge with a nice open pattern. Pick off any sharp corners so you wont leave a tell tale pattern. I apply the process blue to the front part of the area fading out as I go.
Fig.8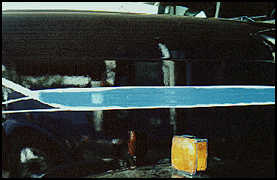 Tape off the area that will be painted next. If it is next to the sponged area, as it is on this design, make sure you cover the sponged area completely or the tape will leave a mark that will show. Don't be afraid to tape over the wet sponged area. when you lift the paint it will stay stuck, and with the sponging you wont notice it has been taped over. Then apply the next color. In this case blue-green. I use a blitz fitch, I understand these are no longer available. Pick a brush that will put the paint on with minimal brush marks. Some folks like the foam brushes but I find you have to thin the paint too much. I always try to use as little reducer as possible. Penetrol is my choice.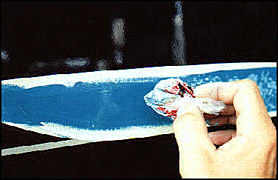 Fig. 9
Now I take the plastic bag the fine line tape came in and wad it up and tape off one end. I mix up some aqua and blue-green and take the bag and dab this on the blue-green area. This takes a little care. You have to keep the bag wet with paint or it will try to pick up the base. Also turn the bag as you go so you don't leave the same pattern. As is the case with every step, I work all four panels, the two hood sides and the two sleeper sides at the same time. This trick is really helpful if you have a color that doesn't cover good, like rubine red. It covers the flaws.
Fig.10

Now I mix up the owners requested "sort of pearl white " using white , silver and a little yellow. Real pearl could have been used but I didn't have any with me. Taking a 3/4 flat Grumbacher I fill in the final area. Notice how it is turned on it's side to get in the tiny area to the back of the design.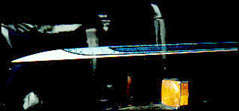 Fig.11

Remove the tape, clean up any fingerprints or drips and spatters, and there will be some, especially on the tops of the fenders. There it is. If you are not going to do any pinstriping you are done. Time from starting including prep to this point 1 1/2 hours. Thats for all for spots on the truck.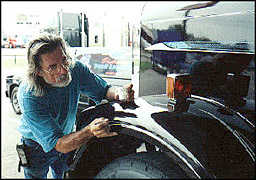 Fig.12

Now comes the fun part. Break out that sword striper you have been practicing with and with the two main colors in the graphics lay down som pin stripes on the beast. I usually outline the fenders, put a design on the trailing edge of the fender , I do the doors, either under the window or down low, something on the upper sleeper, one on the dog house door, and one on the rear of the sleeper ( thats everybody's favorite spot.) I use a cosmos 700 for my striping. They are pretty stiff and as you can see I work outdoors a lot. I work with the paint prethinned and don't use a palette when striping these big rigs. I use a fully charged brush and do a flood stroke like you would use on a showcard. Palattes and ladders just don't get along. Total time on this truck was 2 hrs 5 min. This included taking the pics , a coke break, and talking to at least six potential customers. A simple job like this one sells for $300 . Most jobs I do are along these lines. Want more? Break out the airbrush and really get trick. Take and convex the stripes. The sky is the limit.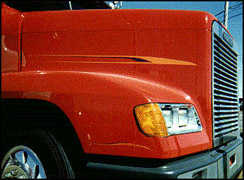 Fig.13

Here is a real simple job with some simple pinstriping that anybody with a little practice can master. Put something similar on the doors and you can sneak up on selling your striping as your ability grows.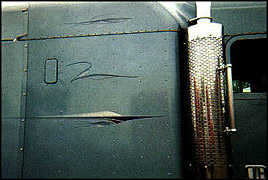 Fig.14

Here's a different twist with a little more elaborate striping and some rivet dodging.
Well there you have it! As Dave Draper would say "Go get em!" You will find this work WILL sell itself. My best sales tool is a striped truck sitting on the lot. It leads to a lot of truck lettering as well. They really like it when you carry over the colors and tricks in the graphics into the lettering.goatwell@bigriver.net
[ Home | Join Us! | Bulletin Board | Events | Find A Letterhead | Become A Resident | Letterville Merchants ]
Copyright © 1998 The Letterhead Website