Here is an easel I built a couple of years ago, and I could not imagine not having it.
It is made from plywood, studs, sheetrock screws, and some 1" black iron pipe fittings. Solid and sturdy as can be.
The easle is two pieces, and can fit any sign width. The two strips of plywood across the bottom join the two halves together.
There sign pivots on the pipe fittings. There are several holes on the uprights to set the sign to different heights.
The two small angled pieces of flat steel are braces that keep it at any angle you want (vertical, horizontal, and everywhere in between)
For double sided signs it's great. Just paint one side, and flip it over. (great for smalt work ha ha).
I modified it with lights, and an outlet to keep from having to run extension cords.
The casters swivel in all directions, and it moves around the shop like Fred Astaire.
I wheel it right into the paint booth for spraying.
When not in use, I seperate the two halves, and it takes up only 24" x 48" floor space.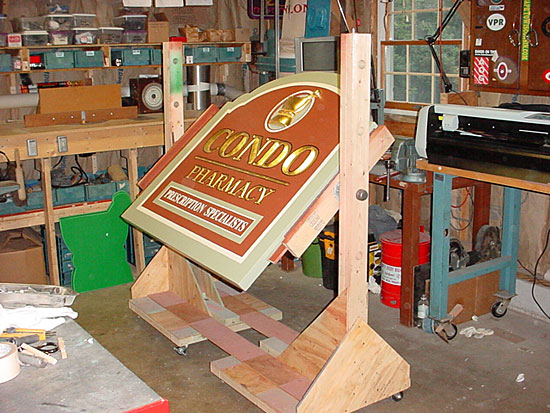 I eventually added some
"swing-lamps" with a switch, and outlet, so I don't have to look far for
an outlet when sanding and routing, and the lighting is great.
I also built various jigs over the last couple of years to hold different shaped signs. Two of the photos show a jig I made to work on 3 identical
signs at the same time. This proved to be invaluable. It saved a lot of
floor space from having 3 signs on saw horses spread across the shop, and
I could work on all 3 at once in one spot. "Paint and rotate!" This jig
for the three signs also works well as a regular angled easel.
I just couldn't imagine not having this easel. A real time and space saver.