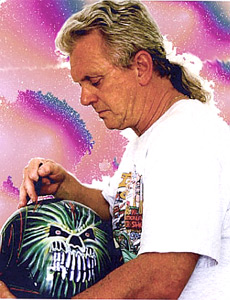 THIS ISN'T YOUR MOTHER'S BRAVADA!
By Jack "The Italian" Giachino
Giachino Studios
Green Bay, Wisconsin
Coming in AutoArt Magazine July/August 2002
My 1985 S-10 Blazer had racked up a ton of miles and it was time to go shopping for something a little more dependable. My search took me though many Auto Shopper magazines and numerous dealers. I finally came across a low mileage; used Bravada that was within my budget and a deal was struck.
As a step up from the S-10, the Bravada was totally different and unique for the first couple of months. Then it started happening. Everywhere I turned my head; another Bravada crossed my vision. It seemed like they were multiplying like rabbits. To top if off, they all seemed to be driven by moms, transporting the crew to another soccer or baseball game.
My artistic ego was crushed. Immediate action needed to be taken. The transformation had to begin. First stop, the drawing board. With a stack of photocopied line art of Bravada's in hand, the paint schemes started surfacing. But wait a minute, there were perimeters to work around. The vehicle would be driven daily, summer and Midwestern winters. I wanted colors that were cool, but easy to touch up. Plus, the colors should help to visually lower the vehicle. The design should not be too wild, but unique enough to turn heads. Oh yes, and let's stay within a budget.
I finally settled on the design that you see in this months step-by-step. The paint made a gigantic difference, but a few more modifications were needed to complete the package. A 2-inch drop all around via rear blocks in back and turned down torsion bars up front brought the height closer to the terra firma. Re-routing the exhaust out the rear quarter cladding just looked like it belonged there and the Boyd wheels…well, 17-inch Boyd wheels weren't really totally necessary, but some things you just talk yourself into.
Now as I wheel around town, I really don't even notice the other Bravada's, because I know that the one I'm piloting won't ever be mistaken for your Mother's Bravada again!