Categories
Winners


It is my pleasure to announce the winners of the March 2007 edition of the Sign Of The Month Contest.


- Three Dimensional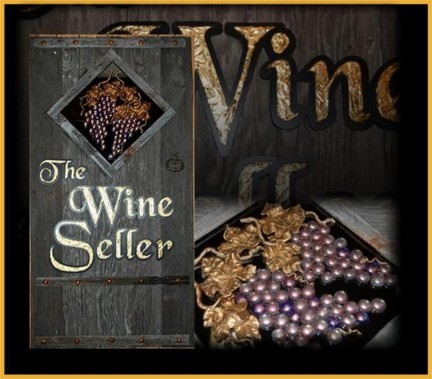 Project:
The Wine Seller

Sign Company:
Kel-T-Grafix, Holdfast SK

Designer:
Kelly Thorson, Holdfast SK

Experimental piece to try out some new techniques

The "window" is a mirrored tile with glass stones glued on. The leaves and studs are Magic Sculpt and bronzing pulvers. The lettering is PVC with 24K gilded Magic Smooth embossed letters. The door is made of salvaged lumber form an old building and snowfence.


- Two Dimensional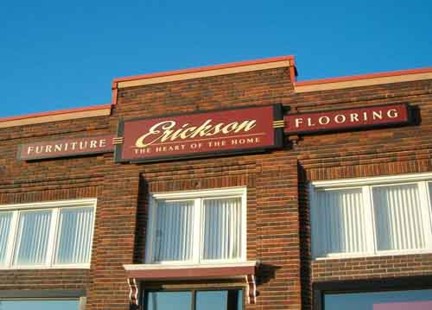 Project:
Erickson Furniture

Sign Company:
Brushwork Signs - Faribault, MN

Designer:
Dave Correll

Store Identification Sign

Sign made out of MDO, polymetal and a little bit of HDU. Flat painted with acrylic latex.


- Vehicles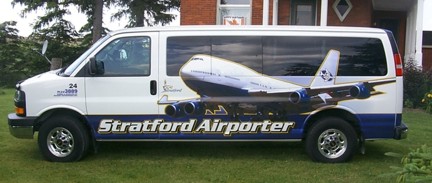 Project:
Stratford Airporter

Sign Company:
Creative Ink Design Group - Stratford, ON

Designer:
Doug Downey

Airport Transportation Vehicle

"We designed and produced this job for a company that takes and picks up people at the airport. We made the plane look like it was either taking off for landing for arrivals and departures. We applied controltac that was printed and laminated using a 540 Versacamm by Roland."


- Windows, Walls, and Banners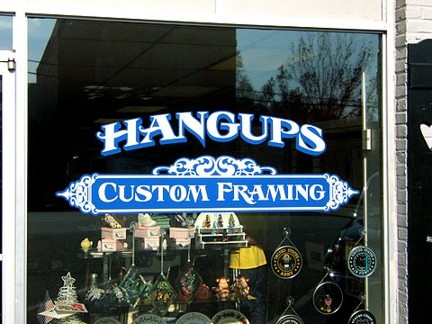 Project:
Hang Ups Custom Framing

Sign Company:
Sign Creations - Lilburn, GA

Designer:
Sonny Franks

Window Lettering


- Design and Art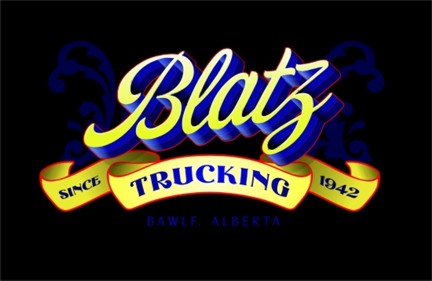 Project:
Blatz Trucking

Sign Company:
Stevo Design - Edmonton, AB
Designer:
Steve Chartrand

Trucking Company Logo

"This is a truck lettering design set up for a digital print. All designed in Corel Draw. The client give me total free reign on the design. I was trying for a "Karen Souza" type look to it."


- Electric Signs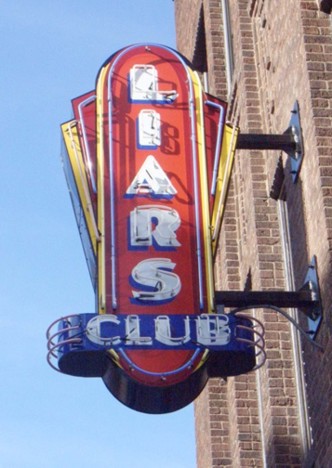 Project:
The Liars Club

Sign Company:
Sign Works - Des Moines, IA

Designer:
Brent Logan

Double sided Neon Sign


The Overall winner is:

Project:
The Liars Club

Sign Company:
Sign Works - Des Moines, IA

Designer:
Brent Logan

Double sided Neon Sign
The Moderators Choice is: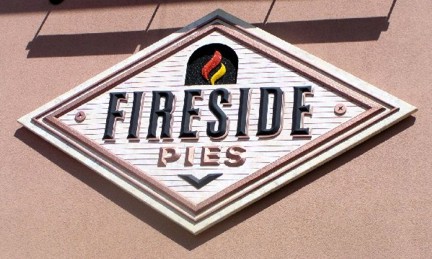 Project:
Fireside Pies

Sign Company:
A Sign of Excellence - Carrollton, TX

Designer:
David M. Harding

HDU wall mounted sign
Background is 3/4" Precision Board HDU laminated to Aluminum square tubing frame. Edges have Precision Board return to give appearance of more depth. Background finished faux Limestone with various colors of Sherwin Williams SuperPaint.
Outer borders are routed and carved 1" HDU with hammered finish to simulate hammered copper. Prismatic lettering is routed and then hand carved of 1" SignFoam3 HDU. "FIRESIDE" letters painted flat black with Sherwin Williams SuperPaint. "PIES" is given hammered copper look. Copper finish is Modern Masters Metal Effects Copper paint with Metal Effects Permacoat Matte Patina Sealer. Copper drop shadow is routed of ½" Precision Board HDU and finished with Metal Effects Copper paint.
Interior of oven is recessed 2", coated with Magic Smooth from Abracadabra Signs and Designs, Ayr, Ontario, Canada, and finished with black beauty smalts. Flames in oven are routed and hand carved 1" SignFoam3 HDU, finished with red and yellow glass smalts from Letterhead Sign Supply, Petaluma, California. Horizontal stripes were routed and filled with red glass smalts


Design Workshop Challenge - A tie!




Sign Company:
Bucks Signs

Designer:
Arthur Vanson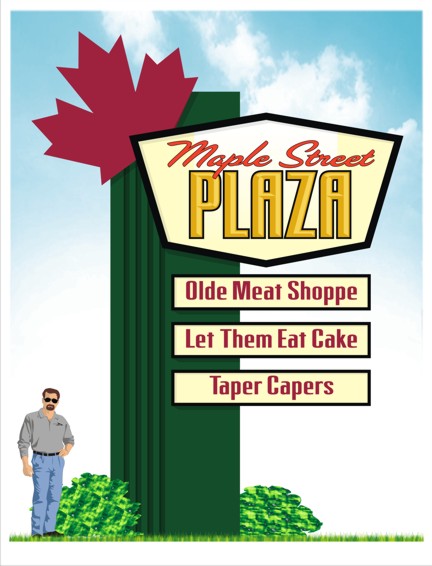 Sign Company:
Arrow DeSign - Ham Lake, MN

Designer:
Bruce Bowers