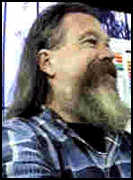 It's been said over the years, "If you guys wrote a book about your lives...no one would believe it!" So in the interests of credibility, I'll try to keep this brief.
Dave's love of signs began as a kid and is directly related to his grandfather, a pastry cook who owned a couple of fruit shops (don't ask me why). Mr Beattie senior showed a young Dave how you mix egg white and sandshoe cleaner to the proper consistency for writing the weekly specials on the glass windows of his shops. Except for a few short diversions, Dave has been making his living with a brush ever since.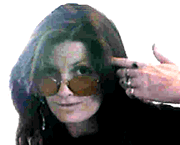 Back then things weren't that much different than today. Nobody was keen to have apprentices, so at seventeen Dave signed up for a two year night course in signwriting at a local technical college. He worked in the steel industries during the day, studied at night and picked up signwriting jobs on the weekend. This was the beginning of Beattie Signs.
Dave hounded other signwriters for tips & tricks of the trade. Some of the older guys weren't always friendly..... nothing much has changed. Then not to long before he would have qualified for his certificate, Dave dropped out, his much hoped for career a casualty of his first divorce.
About that time I dropped in. To Tech that is, a night course in ticket writing was my choice. It was 1975, and with a brand new baby at home I could only go to school at night. I loved the speed of it all. Ticket writing was quick and bright. The few extra dollars from local shop owners, who figured a student's rates would be cheaper, didn't hurt either. Baby number two interrupted the flow of paint so to speak, and I dropped out just before final exams.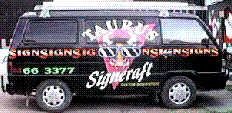 Like ships that pass in the night... you know how it goes, Dave signed up for a second go at a certificate and whoops, divorce number 2. He gave up again, never to return.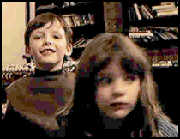 We met in 1983 and married three weeks later. I had three kids and Dave had two. With the Bank of Signwriting, our sign kit, packed into a shipping crate and little else, we moved lock stock and brushes to New Zealand before the month was out. Being Aussies in a strange land, we felt comfortable with the name Eureka Signs, called after the pioneer revolt in N.S.W's early history. The very first job Dave did in our new home was three weeks before Christmas and we really, really needed the money. He finished the job so late that it was a day or so before we got to see it in the light, only to discover that Dave had spelled warehouse wrong! He went straight to the owner to apologise & promise to fix it. The guy laughed and told Dave that sales were going through the roof, thanks to all the people dropping into his store to inform him of the spelling error. Under no circumstances did he want the sign "fixed".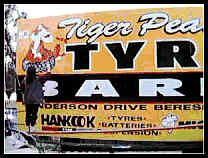 After a few years we moved the family back home to Australia. By now we had become a team. Dave did all the lettering and I painted all the pictures. We bought a screen printing business, which was in reality just a heap of shirts, and a four colour carousel. Roadwarrior Products became a screenprinting & signwriting shop, specialising in printing biker stuff. I loved the design work I got to do. Dave expanded our services to bike shops and enthusiasts rallies while I learned to airbrush.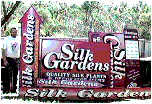 Baby number six (combined) decided 1986 was his year, and our world changed forever. Our son Jake was born profoundly handicapped after a difficult pregnancy, through which I couldn't work. Dave and I learned the value of family and true friends during this difficult time. Over the 2 years and eight months of Jake's life we became parents first and signwriters if and when we found the time.
Babies 7 & 8 arrived at a time when we were just too busy to notice, four months before their brother Jake died. One day, not long after, Dave walked into one of the largest sign shops in our area. He'd done some work for them in the past and used to drop in from time to time. On this day he walked up to the head signwriter, who was not only a friend, but truly one of the most gifted brushman that's ever been, and asked him for a price on some gold leaf work.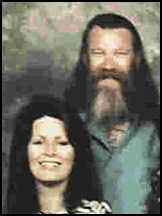 Jerry was very busy and started ranting and raving about how lazy some people are, and finished by saying, "Bugger ya! Why don't you do the bloody thing yourself?" Dave reached behind his back and showed Jerry the polished timber case our sons ashes were in. Jerry lowered his eyes to the floor, took the small box and said, "I've got some forty year old gold leaf at home I've been saving, I'll give you a ring when it's ready mate." That's what I love about this business, the people you meet along the way!
Eight years later Taurus Signcraft is still alive & well. What started in a tiny shed out in the middle of nowhere, with 3 tins of paint and the last of an unemployment cheque continues to survive. It has employed quite a few different sorts of people over the years, but none have been stranger than it's owners. Dave and I were both born under the sign Taurus, both stubborn bulls who don't give up easily on our dreams.
Computers came into our shop about five years back and like most of technology, they just keep growing & changing. Two years ago we bought a computerised router, and just like the plotters before it, we've had to make room for a whole different type of inventory to feed the monster. (I remember when it was just a paint account each month).
I treat my work well & it looks after me in return. We still use a fair bit of brushwork, but we also use our puters a lot...you know "Want the sign yesterday...want to pay for it next year!"

We run a Roland pnc1100 & the router is a Multi-cam (an Ausssie built one), a Pentium that 'she who must be obeyed' keeps puttin extras into, two 486's, scanners, a digitizer that lives on the shelf covered with dust, and some other stuff that 'Gail's Secret Service' has stashed around the place. It's fun to learn these things, but I (Dave) can get bored real fast. I prefer tp go pour some concrete signs. (24'x8'x7 tons each) Now that's fun!
We have done work that was exciting, some dull & mundane. Most of our clients come to us because we go "beyond the square" as Dave says, simply meaning that we are willing to say why not, instead of I can't. We are not different than most of you. I think people in our business have to stretch at times. Some jobs can and have taken months in the planing to finally come together. This industry is always a challenge.
Dave doesn't get to letter as much as he would like nowadays, and I spend far to much time in the office. He doesn't much like computers, but recognizes that they are just a funny shaped pencil and brush, another tool for his use. His talent for resourcing is invaluable, as we do more and more work for the trade. My love for computers means the layouts, designs and accounts are my job, but I still get to paint the pictures.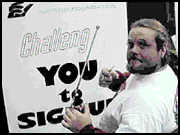 Our apprentice Jamie, is a talented young man who is fast becoming an invaluable clone. Dave always said, "If I could just split myself in half." Unfortunitly, Jamie's sense of humour is also getting more like Dave's everyday. Trust me, you don't want to know!
What's on tommorrow? Who knows? We'll get up, grin & get on with it! I might take the day off and get the rest of my leg tattooed. I can always make the time up next Sunday! Then again, I might not. Thats what I like best about this business, The freedom of being your own boss.
Thanks for taking the time to read about us. If you made it this far, it's good to know you. Drop in for a chat on the IRC, e-mail us and we'll get to know you too. Don't be technologically impaired, get into it.

---
---
[ Letterheads | Join Us! | Bulletin Board | Events | Find A Letterhead | Suppliers | More Profiles ]
Copyright © 1997 The Letterhead Website