Janette Balogh
St. Petersburg, Florida
In 1956 my family fled from the upheaval of Hungary's revolution, and eventually found their way to Canada. Completely uprooted, with loved ones left behind, no worldly possessions and not speaking the language my parents and brother Coloman, age 10, proceeded to make a new life in a free country. Here's where I come in to liven things up a bit!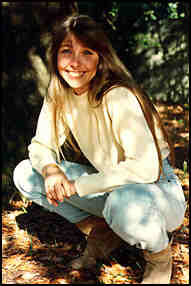 I was born on November 25th, 1958 in Windsor Ontario. From early on I had an inquisitive nature and a flair for art. Both traits passed down to me from my Dad, along with my strong will. From my Mom I derived a sense of self, common sense, compassion, and a propensity towards business and money management. As a kid, it was Lego sets and coloring books for me! Couldn't get enough of them. I swiftly graduated from crayons to those super-duper packs of a zillion colored markers. Big pads of crisp clean paper soon replaced staying within the lines and I whiled away hours just drawing and coloring with uninhibited zeal! Boy, what I'd do to have that kind of time again to be so aimlessly creative!
A shy, quirky kid with big teeth and an enormous overbite, I was teased mercilessly by school kids. Then one summer came the braces at last! I still remember this to be one of my happiest days. I showed up at school that year wearing one of those headgear contraptions, a tinseled smile and a whole new attitude about myself. I was received with acceptance and school became easier from then on. That was a very good year!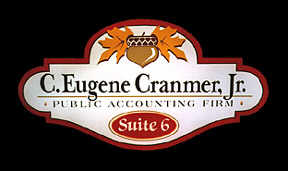 In 1972, we moved to St. Petersburg, Florida, I was 14. At high school I was one of the art room groupies. I joined the Art Club and became a part of an exclusive group of off-beat characters. Every year we'd paint the All Children's Hospital windows for Christmas and one year I had a photo of me plastered on a half page area of the newspaper. The front page of a segment no less. I was a celebrity!
I held jobs through my school years and saved money. Traveling was my passion and I'd use my savings and my summers to do as much of it as possible. At 16, it was the Netherlands, spent with a Dutch family as an exchange student. The following year, Hungary with my family. Next I explored the western regions of the US and Canada with a friend. This was truly a trip of a lifetime. What a blast!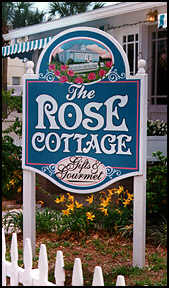 After my travels came the hard realities of deciding my future. Not knowing what direction to take I enrolled in St. Petersburg Junior College where I escaped in some more art courses. An interest in photography developed, and to this day I still envision setting up a darkroom for hobby purposes. Space does not allow for it right now. I had a fleeting encounter with marriage which quickly soured. My married years took me to Terre Haute, Indiana where I worked as a type speccer for a firm producing yellow page ads for Bell Telephone. I later transferred to a position in their Camera Dept.
While in Indiana I painted my very first honest to goodness, got paid for it and everything,... sign! It was a 4'x8' double-faced plywood sign. MDO?... who knows?, I sure didn't. I was clueless. For instance, no projector, no pounce pattern, no stabillos, and absolutely no exposure to any "real" signpainters. I designed it on paper, with my very own letter style you know, and then tediously drew it out with a pencil, eraser, and yardstick as my only tools. Looked pretty good, and believe it or not the other side was a mirrored match! This was accomplished by painstakingly measuring back and forth from one side to the next. Wow, if I had known then...! I don't know what I used for a brush, but I did use One Shot paint.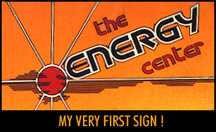 Around 1984, single and back in St. Pete again, I went to work for the Times as a paste-up artist. After about a year I lost that job.(got myself fired!) My sign career loomed ahead. I was approached by Joe Rees, a long time friend and Letterhead whose name you'll see on the BB. Knowing I was creatively inclined, Joe asked if I'd come to work for him part-time. I'll never forget the day I was given my job description. Light office work, for half days at 3 bucks an hour. He started talking about vinyl lettering done on a signmaker. Vinyl Lettering?... Signmaker? Did I have any questions? "Yeah,... can I have a raise?"
And so it began. The signmaker was a Gerber 4B. My introduction to weeding was on pool rules signs in Spanish! Endless bounds of small unreadable copy! I caught on quickly. Within the first week Joe had me try a sign on my own, from start to finish. I had been weeding, masking and watching the vinyl being applied. I was shown a panel, given the specs on paper and left to fend for myself. I did okay! It wasn't too awful long that I got that raise along with a full time position.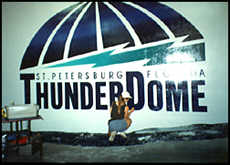 This shop was an eye-opener! Joe's torch burned so brightly in St. Pete that you would have to drive counties away to find someone who could even hold a candle to it. We had an exclusive list of clientele who were quite willing to shell out heavy bucks for his creativity and skills, and stood in line for months to do it. I was exposed to a wide variety of things done well,... very well. Sandblasting, Gold Leaf, Glass Carving, Display Work .... you name it! Joe aptly named his shop New City Signs, and under his rule we truly "renewed" this town's street appeal. Joe has since sold his shop and has moved on to Massachusetts to brighten the "Cape".
Working for Joe was an opportunity for which I will always be grateful. Not only is he one talented artist but he allowed me the freedom to really grow. The more responsibilities I handled, the more he'd throw at me. I got to know a lot about the sign industry. I had always been good with people and this coupled with my layout ability were my strong suit.
I was also quite good at selling. Joe would say that I was ruthless and unafraid to charge for what a job was worth doing so with a smile on my face. As a result, I did alot of our estimating. I got acquainted with "SignCraft" and "Signs of the Times" and flipped through those pages in total awe. I learned about high caliber signage, and the ins & outs of the business too. We were a small shop of only 4 people at that time. We were like a family and worked together well.
Hard times hit and Joe was forced to let us all go. I was devastated as I had just bought a home and the mortgage was a pretty heavy deal for me. Little did I know then, that I had just been given my wings. More waitressing and some free-lance signwork ensued. Joe let me use what was now the Sprint during off hours. I took on a part time job with a company called Fast Signs.(not the franchise) The gal that owned it was not at all from a background having anything to do with art or business. What atrocities I saw happening there!
I got fed up one day and realized that I could do so much more and better on my own. That same day I picked up the phone and called Joe saying, "Want to sell the Sprint?" His response, "Hmm, you interested?". I quickly replied, "Yes, and I have the money". It was mine within the week, and I was on my way to self-employment! EGADS!, I was flying solo! I set up shop in my house, two rooms devoted to my studio and workroom and the garage for my shop space. That was in 1990 and I'm still at it!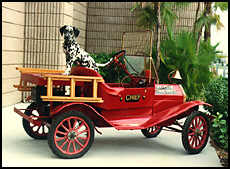 One of my first jobs was for a Communications Corporation. They had a logo that was basically their initials and they wanted it large on the office window in gold leaf. No problem, I priced it and got the job. I had done gold leaf on sandblasted and carved signs, but never on glass. I hadn't a clue that it would be any different. How wrong could I be! I soon discovered that it was a whole different ball game! The answer was discovering LeBlanc's book "Gold Leaf Techniques". I read it and almost died!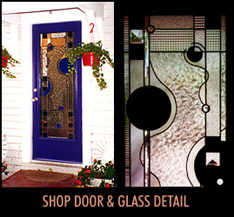 I tried to get someone to do the job for me, would even pay more than I was getting to make it go away! No one took it off my hands. The last person I begged ended our conversation with a smug remark saying that he was "the only act in left in town". Still wouldn't help me out though. I hung up on him, got mad and said to myself, "not for long buddy". I can get a lot done when I get good and mad enough. I decided to face the music and be honest with my client. Felt it only fair to tell them that they were about to become my guinea pigs and offer them an out. I told them that the worst thing to happen would be that I would have to scrape off the gold, no harm done other that the waste of time.
They encouraged me to take it on. Wow! I did a lot of practice pieces on glass in my garage first then proceeded ahead with the job. Well, I'd like to say that it was a cinch, and that the gold came out brilliantly, but it wasn't and it didn't. It was, however, an acceptable job and with the client happy, it is still there to this day. I was lucky that the job from hell hadn't come with the customers from hell attached to it, and I knew I had just endured yet another "growing pain".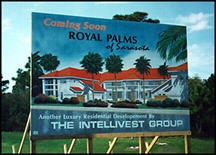 My next great challenge was a small billboard that entailed a large architectural rendering. I took on the job without first knowing if I would be able to handle it. I figured I knew people who could bail me out if need be. It took some trial and error working out the colors and shading, but I pulled it off quite well and have gone on to tackle more of them since.

My hand lettering skills are basically self taught and I'd be the first to admit that I could use improvement in this area. With minimal practice time, it's certainly not something I do with any great speed and ease. Good?... yes. Fast?... no. I have also included the talents of other artists with my work. One such person is a skilled glass artist named Chris Uprichard, who I have had the pleasure to get involved with in etched and stained glass. My studio door is an example of his work and our combined efforts in design.
I just keep stacking on more to my ever growing repertoire of capabilities. A few years back I hooked the Sprint up with a PC, added a scanner, some printers and another larger plotter. There are more changes on the horizon. I've embarked on the area of graphic design and would like to do more work of that nature. Boy, you can sure rack up some hours learning those monstrous software programs, not to mention the financial investment! I don't know what the future holds, but for now I am trying to keep up with technology without leaving behind the virtues of the past. I will always set aside the time and the place to include the glorious mark of a brush, and of course, design and fine craftsmanship will always prevail. After all, ... it's part of what I like to call my "niche". Meeting expectations is fine, ...exceeding them is better still.
E-mail me at janette@janettebalogh.com
---
[ Letterheads | Join Us! | Bulletin Board | Events | Find A Letterhead | Find A Supplier | More Profiles ]
Copyright © 1997 The Letterhead Website