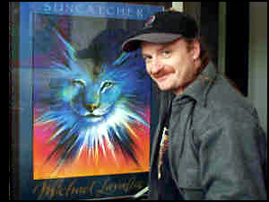 Mike Lavallee
Wayland , New York

I was born in Brooklyn, NY on May 30, 1959, at the Brooklyn Navy Hospital. I don't remember anything from that time in my life and it's probably a darn good thing too!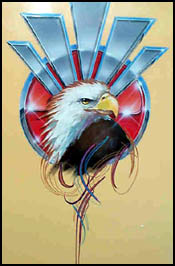 I guess if I think back hard enough, I can remember the first drawing I ever did. I remember being at home sick with the measles on my bunk bed (the top bunk of coarse!) with a pad of sketch paper and a #2 pencil. I remember doing a picture of a buck deer, and my parents made a big deal over it, so that encouraged me to keep doing them.

I've always been interested in wildlife art. I guess my Dad, being a taxidermist, was somehow responsible for that. I was a good student in school, and because of my size I really excelled in gymnastics. Mostly floor exercises, tumbling , vaulting and that sort of thing. Being the smallest, I always got picked to be the top of the human pyramid! I soon found out that being up there wasn't always a such a good thing. It's a long way down to those floor mats! Let me tell ya!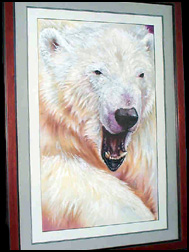 That was in elementary school and art ran a close second to gym. I liked it so much that I was really considering trying out for the Olympics. But that all changed when my parents moved my two brothers Bob, (who was born the same day as me only one year apart, I'm the oldest) and my youngest brother Marc to Merrimack, NH, where the local high school didn't have a gym. Go figure?? So it was there that my interest in art really bloomed. I have to give credit to my art teacher Bob Salisbury for seeing something in me that made me believe that I had talent. With his motivation and guidance, I really took off with it.

Thank God for art class. That constant A grade helped me out when I wasn't doing so well in other classes that involved left brain usage!!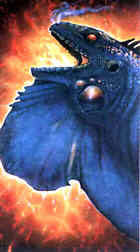 It was in high school where I acquired the wonderfully flattering nickname "Weasel On the Easel". I got a chance to do some pretty cool things, like I was part of a team of students that worked on a wall mural together that had to do with some of the things that made the state unique. It was a fun project .and it got a lot of local press.
I also had an English teacher who told me about a national art contest that involved designing the cover of a TV guide type of pamphlet . The contestants, all high school students, had to draw a piece of art to illustrate three different PBS specials. One was "We Live With the Elephants," the other was a story on the gradual extinction of the big cats. The third I can't recall.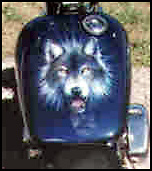 Well my mother told me not to get my hopes up because there were a lot of students from across the country entering the contest. Well, one day Mrs. Hickey came into one of my classes and flashed a small magazine in front of my face and said "You Won!!" Man that was cool ! My first published piece!! Not only that, there was a letter along with it saying that I actually would have won both categories, but they didn't think that would be fair. That was ok by me! It was just as good as far I was concerned.

On another occasion, I entered an art contest that the State's largest newspaper was putting on for high school students, I entered a watercolor of a covered bridge that I was really proud of, and was rejected because they thought a professional artist had done the work! Oh well that was (almost as good as winning!)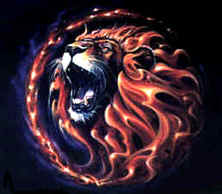 I also did all the illustrations for my yearbook, I look at them now and cringe!! But at the time I was really proud of it. I won a couple of local scholarships and was thinking about a career in commercial art, but my dad being the practical Yankee that he is convinced me into checking out the sign trade. "So he wouldn't have to worry about me making a living in the cut out paste up world that commercial art can be". So it was then that he dragged me kicking and screaming to Butera school of art In Boston. There I saw some unbelievable things going on, like gold leaf on glass, show card artwork, and pinstriping.. hehe!

I said "Hey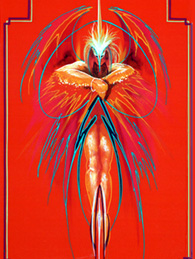 ! This isn't as bad as I thought it would be. This might just be ok?!

And after struggling through the first years mind numbing exercises, I finally got to use my artwork again. My first paying sign job was a show card for a local theatre. It was at Butera where I learned the art of pinstriping and did my first striping job, a van that took me 8 hrs to complete! I have since knocked that time down to around 35 minutes.

After graduation I worked for a year at a local sign shop, it was there that my education really began. All the nitty-gritty of the trade, installation, ( Did I tell you how much I hate post hole diggers??) design, layout and all that goes with it. But I soon realized that I was doing all the work and for only a fraction of the price of the job. So I thought I might just give it a go on my own. And I opened up Merrimack Sign Company. I ran this out of my parents basement and had quite a good clientele going in my area. After about three years of this, the same guy I did the van job for said "Why don't you go up to Laconia Bike Weekend and try striping bikes?"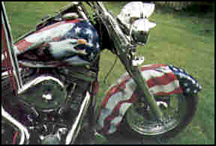 Well, I did just that and let me tell you I couldn't believe how well I did, now we are talking about 1980 and my prices were nowhere near what they are now, anyway I made $750.00 in two days of painting clear! No mdo to prime, paint, letter, deliver, install etc. And I liked that! So I started to go to more and more of these shows and started to ease off on the sign work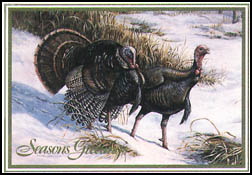 I still dabbled in fine art and submitted a painting of some Wild Turkeys for a magazine cover, well they liked it so much the National Wild Turkey Federation used the piece for their Christmas card that year! That was only the second time I ever submitted any of my artwork to be published.

Eventually I backed off of the sign painting and worked strictly on the striping and airbrush artwork. Because of my wildlife art background I started doing more and more pictures, it was about this time I created a unique art form that combined pinstriping and pictures and I called it Pic-striping, pictures out of stripes! This was very popular and my business really took off.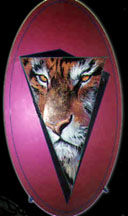 Because time means money at these events I had to develop shortcuts. I never really liked using a dagger or sword striper, because that striping style was too slow for me, I developed and constantly changed my style as the years went on. And I eventually settled in on a scroll type style that fit most of my striping applications. I would hand trim gray lettering quills down to striping brushes in such a way that they could be used for some super tight scroll pinstriping and lettering as well. which worked out really well because a lot of my customers want their names on their bikes or helmets and the brush allowed me to do both without having to stop and change brushes to complete the job. Thus getting the customer out quicker and another customer in.
And that brush is now produced by the Andrew Mack and Son Brush company out of Jonesville, MI (517) 849-9272 I also have developed a really cool line of pictorial brushes designed for all dry brush graphics and pictorial work in the sign and automotive art industry. These brushes are also available through Mack Brush Co. Both the scroll brush and pictorial brushes have my name on them which I think is really cool.

After doing local shows for years, I decided to stretch out across the country and do shows in other States. Since most of the rallies are in tourist type places, this job of mine has taken me to some of the most beautiful places this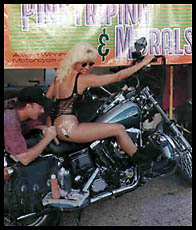 country has to offer. I've gotten to meet and do work for celebrities such as Kyle Petty, Malcom Forbes, the bass player for the group Bon Jovi , and Flip Wilson. Bikers have been some of the finest customers I have ever had, not one bad incident with them in all my years on the road.

As a matter of fact, painters, artists and tattoo people are revered by the biking community and they treat you as if you are some kind of celebrity yourself, which I find very satisfing. They trust me with their bike which can be worth $ 25,000.00 or more. Talk about pressure! Some of these guys are HUGE!! But most people who come to me just say "Do It Mike. You're the artist. I've seen your work." That really boosts your self confidence.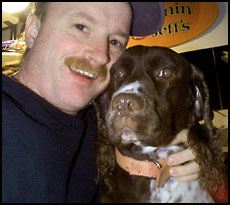 Being on the road has taken its toll on my personal life. Two marriages and a bunch of girlfriends have fallen by the wayside while I've made my mark.

Right now my best buddy is my English Springer Spaniel COCO. She is the smartest dog I think I have ever seen. She is constantly by my side except when I go to the bigger Harley rallies. It's just too noisy and confusing for her. I have DCC'd many of you her picture she is a beautiful and loving companion.
Over the years, I have done many large murals. At present, I am now doing five city busses for the city of Rochester, NY. When I find the time, I like to work on my fine art painting, mostly wildlife of course. Attending the various Letterhead and Pinhead events around the country is another passion of mine. Man, talk about a rush!! If you haven't gone to any of these events yet, do yourself a favor and arrange to go to one of each. You won't regret a minute of it.

I'm also currently building a 1936 five window Ford coupe street rod I like to call the Money Pit!! It's going to be bad! And that's good!

I used to work out of a fully enclosed Quonset type of tent all fully lighted and carpeted with CD stereo which worked out fine for years. The inside walls had signatures from celebrities
and customers from all over the world .

But now its time for a change and I'm currently in the process of building a portable art studio on wheels! It's a 24 ft. Car hauler with TV, VCR, refrigerator, Cd stereo system, microwave and more! It features very hi tech looking interior as well as a fully lettered and airbrushed exterior. It's gonna rock ! I'm really excited about this project!

Because the bike season for me ends around September, I do a lot of mail order parts where the customers send me their tanks fenders and helmets, as well as leather ... lots of leather! This is great because it allows me to not be rushed and I can get to do some really involved artwork.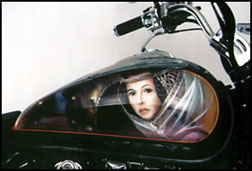 I did this bike for a customer that was Scottish and a huge fan of the movie Braveheart. That job took 100 hours to finish and it came out awesome!! It has taken many 1st. place trophies at different custom bike shows. Well I can't think of anything else to tell you except that I really love what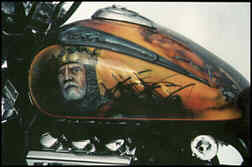 I do and look forward to every new day. Every job is different and challenging. I am a huge reference hound and am constantly searching for new ideas to apply to my work. I hope we can meet to share ideas and experiences someday. If you ever see me working somewhere please come in and say hello. We should never be be strangers or afraid to approach each other. After all, we are all brothers and sisters of the brush......and, er, uh, the squeegee and keyboard!

Watch for me on Letterhead IRC Chat. I'm the good looking guy called "Spyke." If you wish to contact me via e-mail, I'm at mlavallee@rpa.net
---
[ Letterheads | Join Us! | Bulletin Board | Events | Find A Letterhead | Find A Supplier | More Profiles ]
---

Copyright © 1997 The Letterhead Website