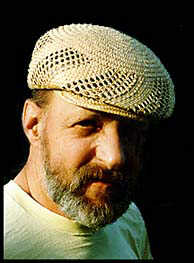 "Crazy Jack" Wills
El Dorado Hills, California
When I was a kid, what I seem to remember most are the coal trucks coming and going everywhere. I came into the world in January, 1939. The location was Peoria, Illinois. In those days everyone burned coal to keep warm in the winter. I got an eyeful of signage from those trucks and moving vans and I often wonder how much influence they had in my career choice.
There was on going artist projects at school, but I started drawing these damn trucks and tried like mad to fit the lettering on them. It wasn't until high school that I actually did my first sign. It was one of them mounted on spring deals in front of a gas station. I don't remember what the hell it said, but it took a week to do and a couple nights under the headlights of my car. The guy liked it and even paid me my 20 bucks. I must have driven by at least 50 times to see it.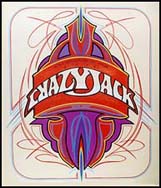 This whole story really started about 1956 when I began trying my hand at pinstriping while still in high school. Boy, did I ever mess up some cars! I learned real quick from an older painter friend about how to clean up the mess with a little Bon-Ami and mineral spirits. That way I could do it over the next day, and the next day, and so on. I eventually caught on to some of the tricks by going to car shows, watching people like Tommy the Greek, and a couple of others who were working mobile at drive-in restaurants and drag strips.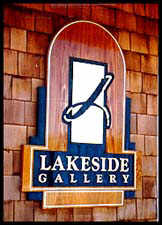 It was a struggle learning how much of which ingredient to add at any particular time while working on a job. After a few more frustrating years, I gave it up, got into machine work and became a tool maker. While working at RCA home instruments, where I switched to the design model shop ( what a job, it was like going to heaven every day) I started working on some of the boss's antique cars doing some striping, redoing hubcap symbols etc. This led to a partime job working weekends at a sign shop in Broad Ripple, Indiana. That's where I really started to learn about working with paint, brushes, screen work, digging holes and the whole nine yards.
After getting real tired of the brutal winters and high utility bills, it was time to move to California. By this time the 4th kid was here, money was getting tighter ( lots of shoes ya know,) and my ambition was heading for the toilet. Then I got lucky, landed a great job at a display company and the learning curve blossomed one more time. I started attending Foothill College, taking design classes, and learning layout schemes, balance, color and all the essentials of harmonics. That helped improve my outlook and things started to look up.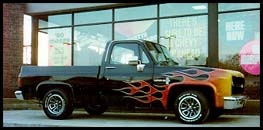 It was an extremely heavy situation at the time, trying to keep up with family life, work, school, and another partime job. Check this out..While working as a display man at this sporting goods store, I met this guy who comes in once a month to do show cards. I would cut up about 100 different sizes of cards and set them up in rows on tables all over the back room. This guy would come in at night after his day job at Payless Drugs, and bang these things out so fast you wouldn't believe it. This is how I came to meet the late Mike Stevens! He helped me get acquainted with a lot of different methods of painting, especially tempera colors and sables. Mike inspired many people and I feel lucky to have known him.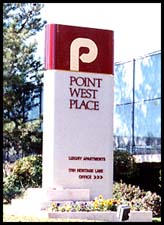 I went on to a bulletin shop in San Jose, learned how to fill in big letters, coat out lots of 4x8's, spend days at a time out in the middle of nowhere installing, and you name it. It's all part of serving your apprenticeship in Sign Painting. Some call it "paying the price." Thinking back, I was very fortunate to have the guidance and experience of people like the Pennington Brothers and Ted Maddox. All these guys just happened to be thrown into the same pot at the same time as me. What luck!
I eventually ended up back in Illinois, (my wife at the time kept getting homesick), middle of winter, no work to be had, and the only option was to go to work at Caterpillar Tractor as a machinist. Then I came across this company that needed to have a giant sign spectacular completely renovated come Spring. As fortune would have it, Cat went on strike, and I was back doing signs. It turns out that this sign was 22 stories up and the smallest letters were 10 ft high. It was all porcelain with neon,16 ft. letters at the top, and it hung out over a railroad yard right next to the river. My job, along with a crew member, was to scrape and paint the structure, help remove neon sections and clean the porcelain. In a nutshell, get it done as soon as possible!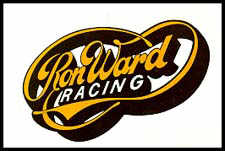 One day while we were up this sign, we saw a storm coming in from the West. We figured there was about an hour or maybe two before cleaning up and heading down, so we decided to finish the job. About a half hour later a bolt of lightning shot out from that far away storm, followed the river and headed for the highest piece of real estate it could find. We were on it! That chunk of raw energy hit a lightning rod about 30 ft above us and to this day I still say blessings to the inventor of safety belts and toilet paper. Not a great memory, but vivid.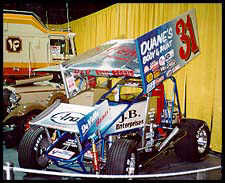 As far as the very worst of times? I would have to say it has to be lettering corrugated semi trailers for days on end with italic copy at an angle of 30 degrees. To top it off, the trailers were always parked near an area where tanker trailers had to be drained and steamed so they could be welded. Then along with the gagging gas smell came the aroma of the nearby stock yards with flys by the millions. That sucked, but I was at the bottom of the pecking order at the time.
The very best had to be when I moved to Texas, to get away from another recession. I got real lucky and landed a job with a shop that did piece work. After a few days on the job I went to sub contractor status, got all of the high dollar stuff because I was willing to come in at all hours and knock it out so to speak. I was paid at a rate of 50% percent of everything I touched with bonus for 1 day turn around plus a bonus if I sold the job. That caused some animosity with the regulars but the theory started rubbing off and everyone eventually got a piece of the action.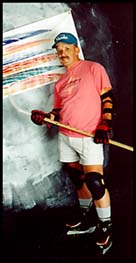 I have 5 kids, 4 boys and 1 girl, who is the oldest. At last count, there was 7 grandchildren. My boys took turns working with me off & on for a while, but showed no real desire to be entrenched in the trade. The youngest is 14, on the honor roll, plays hockey (defenseman) and tons of golf. I'm also involved in minor sport as a coach and even play a little rollerblade hockey whenever I get the chance. It's a great way to burn off stress!
After making it back to California, for the final time, I came to Sacramento, with the family and settled in. There it was having to go to work for a shop or two for a while (about 4 yrs.) until I got things moving my way once more. This is a weird sign town in that the client base seemed to have their way with most of the shops. I started doing some interesting sheet metal projects for a few developers in the area (they were all used to mdo screwed to 8x8 posts) Sandblasting was really becoming popular as well, so it was glory days for a while.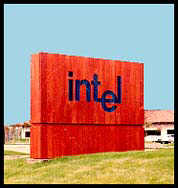 Then the little 4B started rearing its little head with shop owners loving it and journeymen spitting at it. We all swore that we could never be replaced. WRONG..! The learning curve about handling vinyl was a real mystery. Especially installing the damn stuff. I got this idea about how to put a mixture of ingredients together and eureka... Rapid Tac was born. We made some money, worked some sign shows and for awhile things were real good. Eventually, things between us soured and I sold my shares in the company.
After that, I was the marketing director for AFI, which does the water jet cutting of all kinds of letters or any kind of design. Then guess what? I started back into pinstriping, set up some routes for dealers and body shops and was healed once again. Doing what I liked best and having fun too!
My first Letterhead Meet was in Livermore, California back in '85. My good friend Bill Davidson, whom you might recognize from his BullBoard posts, was the host. I was working for Bill at the time and didn't have a clue about what was going on. It was called SignFest and wow...what a blowout! I still get shivers thinking about that one. Lots of people, lots of fun and lots of memories.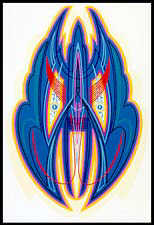 Now here it is 12 years later and the NorCal event at PSS, is still one hell of a gasser. It seems to be one of the most popular annual events around. I would like to see some rivalry at the east end of the country in the future. C'mon Jack, lets do it at the Cape!
Then I got tied up with Vector Art at a convention, did some designs for their first CD-ROM, and from there went at it with another partner to develop the Sign DNA CD-ROM. Now I am on my own again, burning the midnight oil at the young old age of 58. My latest project is a CD of clipart especially chosen for sign applications. The CD is called Sign Designer Artworks, and it's available here at The Letterhead Website. Check it out! I know money can be tight in our trade and my CDs are priced to be very affordable. We're working on other CD ideas to help out sign shops. In the process, we hope to get to a point where I may be able to take off for a day of fishing. You gotta have a dream!
These days when I think about all the things I've learned, people I've known, the evolution of the industry, and the future, there is many a sweet memory. At times I've made and lost tons of money, had the satisfaction of learning these #%$# computers, somehow managed to pay the taxes and bills on time and having the faith that another killer job is right around the corner. Who could ask for more? I still believe that this is a really cool trade.
Say, let me tell you about this time when I was out on Black Duck Lake in Minnesota and......
E-mail us at designhs@quiknet.com
---
[ Letterheads | Join Us! | Bulletin Board | Events | Find A Letterhead | Find A Supplier | More Profiles ]
Copyright 1997 The Letterhead Website