Meet Jim, Lorna & Roy Ingram
Jim Ingram Signs....Penryn, California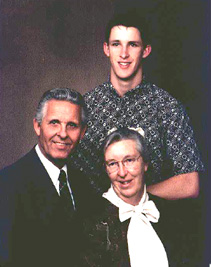 Congratulations to our 3,000th. Letterhead Website Members! They are Jim & Lorna Ingram who, along with their son Roy, own and operate Jim Ingram Signs in Penryn, California. Here's some of Jim's story in his own words.
After about 20 years in the sign trade I started my own business in Dec. '76. Working out of my garage and driving an old Ford pick-up truck, I managed to struggle through the first year in the Sacramento, CA sign market. The next year I bought a new red; '77 Toyota pick-up truck and striped, gilded and lettered it like a little fire engine it's been my trade mark ever since.
In 1980 my wife, Lorna and I moved to Penryn, CA, which is about 25 miles east of Sacramento. I built my log house while living in a mobile home on five rural acres. My sign shop is in the 24'x40' full basement that I had excavated before building. My garage doors at the open end of the basement provide a projection/bulletin wall and the paved parking area is adequate for lettering
trucks, vans and trailers.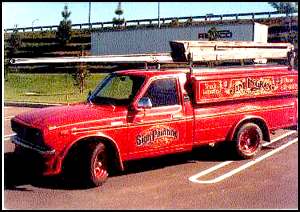 Lorna and I have raised our three children (Carol '75, Robin '76 and Roy '79) here with farm animals and plenty of church activities with our many Christian friends. Home schooling our children was a privilege my wife enjoyed, since she had a background as a public school teacher in her hometown of Charlotte, NC. Our girls are both married now while Roy is majoring in computer engineering at near by Sierra College.

I began taking Roy to Letterheads gatherings about ten years ago. He has grown up in his Dad's sign shop, just like I did. He has been a big help to me in the business, especially when we made the transition from our Signmaker 4-B to the Flexi-Sign Pro and the subsequent upgrades.

Through the years, I've witnessed a few innovations in our business the advent of the paint roller in the 1950's then came low tack lettering tape in the early '60's and the airless spray gun and of course, the dreaded computer. Who knows, maybe someday someone will re-discover the lettering quill.

The Lord has been gracious to us and has blessed my business with many wonderful customers and almost no bad debts. I have had opportunities to letter, stripe and gild many of the beautifully restored old engines and coaches in the California State Railroad Museum in old town Sacramento.
That project has spun off into many other museum commissions that I consider a privilege since a typical sign painter's job might only last but a few years. Aside from my early training in my Dad's sign shop (Marin Sign Co.) in San Rafael, CA, I consider the Letterheads movement to be the biggest influence on my sign artist skills. The amazingly talented and sharing people I have met,
read about, and who's work I've seen published in Signs of the Times, SignCraft, and A Magazine About Letterheads, have been a profound inspiration to me.

I don't see full retirement in my future because I love the sign business so much it's a part of my life. I suppose if I weren't making signs for a living, it would be my hobby it may be yet!

Thanks again,
Jim, Lorna and Roy Ingram
On a personal note, Barb and I wish to thank all of you for the support you have shown us and this website. It has become the best voice small sign shop owners have ever had. We raelly are an on-line community! As we grow to welcome our 4,000th. member and beyond, we will continue to rely on your feedback as to what direction you, the signmakers, want to go. Our best to all of you and your families!
---
[ Letterheads | Join Us! | Bulletin Board | Letterhead Shops | More Shop Profiles | Our Suppliers ]
Copyright © 1997 The Letterhead Website
---