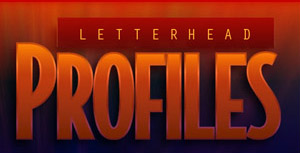 Bill Riedel's ...Letterhead Portraits

We're honoured to be able to share this collection with all of you. There's a brief bio on Bill and his company, as well as an explanation of the tools and process he uses to produce these masterpieces.

70 Gary Anderson Signs...Photographed In Nashville, Indiana Oct. 2002

This page is a wonderful source of inspiration. Enjoy.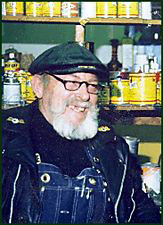 VonDutch...Out There Somewhere

Special thanks to Bob Burns. Many of us believe this is the best thing ever written about the life and times of Kenny Howard. The legendary Von Dutch!
Steve & Barb Shortreed...Fergus, Ontario, Canada
Steve Shortreed and his wife, Barbara, registered The SignMan as a business in 1975. Working in his hometown of Fergus, Ontario, Canada, Steve and Barbara eventually discovered the Letterhead Movement.
The Shortreeds also discovered the frustrations that often come with running their own business, everything from losing big accounts and being forced to lay off friends, to having to deal with life-changing health problems and re-discovering the importance of family and friends in making a life.
In late 1994, Steve & Barb launched a website dedicated to a group of people who call themselves Letterheads & Pinheads called The Letterhead Website. That story is here too.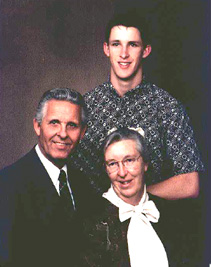 Meet The Ingrams...3,000th. SignUp Winners!
Jim & Lorna Ingram, along with their son Roy, own and operate Jim Ingram Signs in Penryn, California. These longtime Letterheads became our lucky winners this week when they became the 3,000th. shop to register as Letterhead Website Users. Take a few minutes to introduce yourself to them as well as the suppliers who donated some great gifts.

David Fisher, an instructor at Australia's Queensland School of Printing and Graphic Arts put together this page featuring projects done by this years graduating class. Looks to us like the future of our industry downunder is in great hands!


Rod Tickle... Luxton, Austrailia


Here's Nettie!...Janette Balogh
Meet Janette Balogh from St. Petersburg, Florida. Our own Nettie from Letterhead Chat!


Mike Lavallee Wayland , New York

Meet the real "Spyke" from Letterheads Chat! A master of the airbrush and more!


"Crazy Jack" Wills
Jack is from El Dorado Hills, California. He's a sign painter, inventor & allround great guy!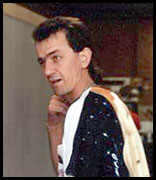 Website Members 2,500 Register!
Congratulations to Wayne & Joanne Harrison of Advanced Airbrush Murals & Signs, Mt. Druitt, NSW, Australia.
Letterhead Students
Get acquainted with the staff and students of the Faculty of Printing Arts and Media, a division of The Southbank Institute of TAFE, based at Morningside in Brisbane, Queensland, Australia

Our 2,000th. Letterhead Website Members!
Congratulations to Eric and Jeanna of Buffalo Sign, White Springs, Florida.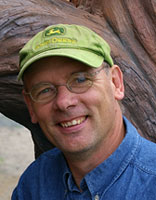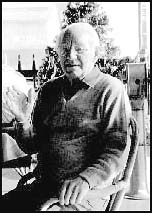 Want To Meet A Pinstriping Legend? Tommy The Greek Is Here!

Thanks to Michael Dobrin and the folks at AutoGraphics, we are able to share in the life of a true master of pinstriping. Meet Tommy Hrones....Tommy The Greek!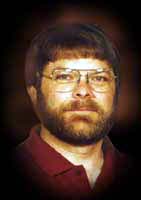 Mike & Darla Jackson
Founders of Jackson Signs in Jackson Hole, Wyoming, and the folks behind Golden Era Studios.
Kim & Gretchen Noller....owners of Noller Sign in Lebec, California
1996
Meet James Kelly....owner of SignArt in Kircubbin, Northern Ireland
Gray & Leslie Hodge....Cam River Signs....Tasmania, Australia
Dave & Gail Beattie...Taurus Signcraft...Newcastle, N.S.W, Australia
John Serjeant...Serjeant Signs...South Grafton, NSW, Australia
Barry & Becky Tonner....Milton, Ontario
Doug & Jane Downey...Stratford, Ontario
Jamie & Cindy Harju...Jamie's Signs...Anacortes, Washington
Tom & Kathy Durham...Weber Hill Signs...House Springs, Mo
Mayo Pardo...Signs By Mayo...Skokie, Illinois
Andrew Levay...Swamp Fox Designs...Charleston, North Carolina
Bob Stephens...Skywatch Signs...Zephyrhills, Florida
Bob Burns...Lettercraft...Prescott Arizona
Serge Birbrair...Signs, Signs, Signs Inc...New Jersey
"How in God's name does a guy from the USSR, who can not draw a straight line even with a ruler get this far in the sign business?"
Walter Arnold...Letterhead With A Chisel
Don't miss this opportunity to meet a gifted sculptor from Chicago!
Our First Profile!...Meet Rob Leuschke
Rob is a graphic designer from St.Charles, MO who has carried on a love affair with letters since grade school. He has worked for Hallmark Cards and now designs greeting cards through his own business, Rob Leuschke Graphic Designs. In addition, he has designed an extensive collection of typefaces. Learn how Rob got interested in lettering and how he works. Finish up your glimpse into Rob's world with a visit to his website. While there, drop him some e-mail to let him know how much we appreciate his work and bravery for "volunteering" to be our first profile.
[ Home | Join Us! | Bulletin Board | Events | Find A Letterhead | Suppliers | More Profiles ]
Copyright 1995-2010 The Letterhead Website