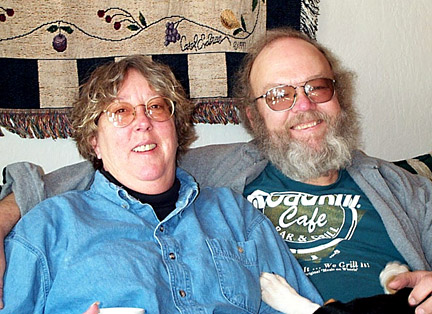 Hosts Jackie & Gary Vaughn
Richard Bustamante Demos Wet On Wet
Stefenie Harris & Project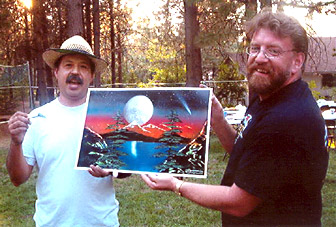 "Look What Richard Made Me!"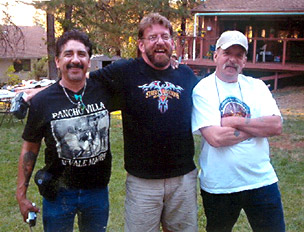 Cisco, Mike & Crazy Jack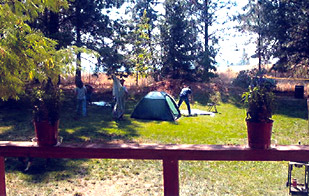 Tearing Down Camp In Jackie's Backyard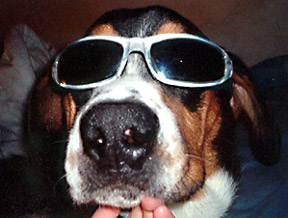 Buster The Blues Dog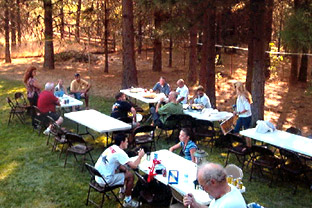 The Volcano Gang

For at least the third time in history, hardy Letterheads from Northern California and Mazeppa, MN made the long climb up Daffodil Hill to the home of Jackie and Gary Vaughn. As they set up camp in the backyard, everyone was eager to get on with the fun and sharing.

Mike & Ayleen Meyer, from Mazeppa, MN, were the special guests. He talked shop and kept us in stitches with his stories. Later in the day, he gave us all a wonderful demo on hand lettering. An old board never looked so good!

Stefenie "The Moon" Harris showed up with her husband Heath, Little Moon Jackie and Mini Moon. Not only that, she brought paint! Thank You Stef!

Victor Georgiou and his dog Toby made it. Buddy the Blue's Dog sure enjoyed Toby. Even Letterhead dogs get along well.

Crazy Jack Wills was back. His talents on the Beer Can Blues Harmonica are a wonder to see and hear.

It was a joy to see Richard Bustamante and FranCisco Vargas reunited. These were the two guys, known as The Traveling Millennium Sign Artists, that really got this meet started a few years back. Cisco and his lady Melody even treated us to some chorizo burritos Sunday morning.

Richard is well known for his wet on wet paintings. He put on a demo for all and even found time for a one on one lesson for our Daughter Jenny.

Mike & Donna Pulskamp, look for the guy with pink tipped hair, were a true delight. He's a master at joke telling.

Scooter Marriner, or ScooterX as he is known, was a new face to this meet and we sure appreciated him coming.

Terry & her boyfriend came & stayed for a few hours, but their camaraderie and the ease of conversation sure added to our family reunion.

A special thanks to Ron and Kristi Percell at Letterheads Sign Supplies for sending along the CDs and sign mags for door prizes.

Thank you all for coming. It was pure joy having you here!
Bomba-Dear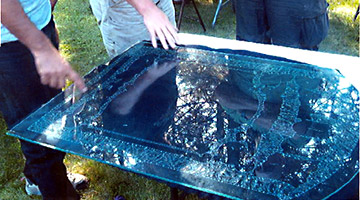 Richard's Glass Project
Mike Meyer Does It By Hand
Learning To Letter Under The Trees
Jenny Learns Wet On Wet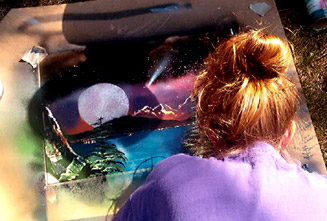 Awesome! Jenny Learns Fast.