I drove up from my home in Victoria Friday morning to register/sign in at the Rutherford Mall. The Mall's main sign announced the meet. Good! I'm in the right place.

Since I signed up for the 'gold' class, we had to be there at noon to sign in, as our class started at 1 pm. Signed in and go to meet Sue Banasky from Source Signs, nice lady. Also got to meet Mike Meyers, who brought this really cool mirror surrounded by driftwood. Is it customary to bring a panel? I didn't bring one, kind of feeling bad, not a good start.

At 1 pm we are of to the glass class, held in one of the empty storefronts in the Mall. Since people in the Mall can watch us through the glass store front, we'll be part of the Mall entertainment for the weekend. The class is set up for 20 participants, each of us with a thick glass panel with a screen-printed outline of a fairly intricate design.

We get to meet John Jordan, the gold gilding guru, our master of ceremonies for the class. John is a small unassuming man, soft spoken, with this gleam in his eye. He showed us a finished sample; gulp, we are supposed to accomplish this in one weekend? John is gentle on us, at least the first day. Unfortunately some of us were unaware that we needed to bring brushes or maul/mall sticks. We all helped each other out with brushes, and Tim invented some pretty cool looking sticks, a magic wand with a yellow happy face ball on the end.

Other letterheads were slowly filing into the mall to sign in. We were all given itineraries, and asked for our meal preferences for Saturday nights dinner. There was to be a get together later that evening. I decided to head for home, as we had an 8:30 am start for Saturday's gold class, and my drive was 90 minutes each way, or a $150.00 US cab ride each way, just ask Mike M.

Up early Saturday, started class bright and early. We did a lot of very detailed painting on our glass panels since our gold size was still too tacky for gilding, which we'll do on Sunday instead. Other classes started in a few different stores around the mall, as well as a local supplier (Taca/Adcam) with this honking big large format printer. Coffee/juice and goodies were always available, and much appreciated.

Just before noon Dan Sawasky had center stage in the Mall. He brought a small project to demo his concrete carving technique. While working and answering questions, Dan explained his 'scientific' mixing instructions, and the fun you can have with new people on his crew. Dan had started his project in the morning, and had it completed by 3 pm.

A group photo was taken at lunch time. In the middle of the mall off course!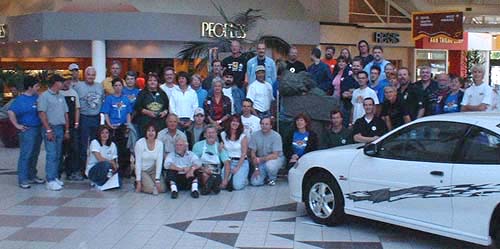 After lunch the afternoon was filled with all sorts of classes, from airbrushing, to hand lettering, vinyl application, carving and tool sharpening, and just meeting these really cool and down to earth Letterheads. Oh, did I forget the window splash demonstration, almost missed that one. Unfortunately it was impossible to take all of them, but I tried my best.
Dinner, ask any one of us, was an experience. There were sixty some odd of us piled into booths and a bunch of tables. Since dinner took some time to come, we had plenty of time for great conversation and joviality. Once the dinners did come, mass mayhem broke out, and I think there could be a few Letterheads still waiting for their meal? Got home around 10 pm that night and couldn't sleep. My mind was just spinning, I was so pumped.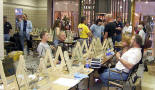 Sunday took care of that. Gold class again at 8:30 am, time to break out the gold. Woo hoo! This is where things got a little hairy for yours truly. Picking up gold leaf and applying it to my panel was an exercise in futility. Who ever gets to vacuum that room after we left could have made a killing. I rubbed that gilding brush on the side of my head so many times to try to build up some static, mostly to no avail. Found out later, when looking in the mirror, where most of that gold ended up. As for John, this man can spot a holiday in your gold from a mile away. He's got an eye for detail, and I've got a few holidays to deal with. Well, none of us got our panels finished, although some got close, so we have lots of homework left to do. It'll be a show-piece (I hope) once it is completed though.
The afternoon, more classes, hand lettering, pin striping, vinyl striping, prismatic lettering, carving, watching that big honking printer produce some awesome prints (got to get one, as soon as I win the lo….). So much to do, so little time. There was a draw for some donated prices, included a fridge, which was to be decorated by any/all at the meet. Went through some of the many photo albums/portfolio's, again, wow, I'm in company with some seriously talented people, I am not worthy. Picked up some cool looking business cards (mementos). Looked over some of the art/sign pieces that were brought to the meet, and took lots of pictures.
My feelings about my first meet:

· I was awestruck at the talent that came to the meet
· Impressed with the organization of the meet
· Thrilled to meet some of the Lettervillians from the Bullboard
· Elated that I didn't break my glass panel by accident or spill some paint
· Empowered and inspired by the whole event
· Humbled by the whole experience

Would I attend another meet? Without question, yes!

Peter Schuttinga
DZines Sign Studio
1617 Millstream Rd
Victoria BC



What an incredible experience!

Susan, you did it! and with great style and professionalism. I cant thank you enough for such a great time, and the new friendships and skills I got to take home with me. Thanks also to all your helpers who worked so hard to make our experiences ones to be treasured.

So much to do and so little time. I only wish there was more time to fully participate in all of what was going on. Glass gilding with John Jordan was the topper. John is a kind and gentle man, and with what must have been extreme patience to continually answer our

same questions over and over. I think many of us beginners were intimidated by the fine detail of the glass panel we were about to produce but John managed to instill confidence in us all. By the meets end, all the panels I saw would hang with great pride in their respective shops.

I had the pleasure of spending a lot of time with John on Monday while we were waiting for our ferry and the trip back to the mainland. I thoroughly enjoyed our time together and the many stories, and look forward to it again sometime! I do hope you made your flight ok. I know it was going to be cutting it close.



As I had the time when my glass panel was drying before the next process, I did get the chance to drop in on some of the other events taking place throughout the meet. I saw some awesome airbrush effects being laid down in George MacKinnon's class and also some intense chrome letters coming out of Rhonda's group. I an saddened that I missed all of Mike Meyers hand lettering classes, but I did have the chance to look over his shoulder on many occasions as he slung his brush around all over the panel jam room. It was truly amazing as he made it look so effortless, but you know that each stroke was placed with care as to where it was going.

Pat Welter! Thank you so much for taking the time from your project to help me sharpen my new chisels. I believe it was me that you were thinking about giggling away as I made some chips with my new tools. I should also thank Clark Garnett for allowing us into his shop late after hours that night to continue working on our projects. And then there is Cal Trauter who I was in awe with as I watched him twirl and spin his brush. It was magic! I thank you as well for putting down your brush to make sure that my new brushes were properly prepared, oiled and ready for action.

Another high point was watching Dan Sawatsky as he shaped and stroked his giant chicken sculpture. If you stood close enough, you could just feel the joy coming out from
this man as he created one of his masterpieces. And Adrienne Morgan's window splash was another fine work of art, and I am glad to hear it lead her to more work before she leaves for home. It would have surprised me if it didn't! It was a treat to spend some social time with you, and what a neat Lady.

Shmooozing right along! There was lots of it about, and what a diverse bunch of fantastic people and talent. It made it hard to say goodbye when the time came. I enjoyed the company an conversation of so many people. John Lennig, thanks for the panel, I hope to stop by and return the favor one day. And Donna was simply just a fun person to be around, and I do have your "happy (maul) stick" made which I will send out to you. Brian Diver, please talk to my publicist before you post any pictures of me thank you, hehehehe. Adrienne has the only shot approved for release at this point! I was glad to meet Peter Schuttinga, another fellow firefighter. Being sneaky and stealing the plate is how its supposed to be done, good job man!

It didn't stop there, Stevo, Glenn Thompson and wife Nancy, and the many many more fine folks I chatted with. Forgive me that I cant mention you all by name here, but everyone of you added to my experience at the Splash as one that will be lingering in my mind for many days to come, and truly never forgotten.

There are a special group of people out here in the world, and they are called Letterheads! Get out there and meet some. You wont be disappointed!

Thank you all from a humbled Tim.....

--------------------
Tim Rieck Signs
Halfmoon Bay, BC
tim_rieck@dccnet.com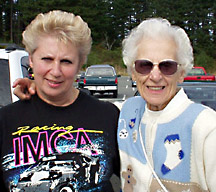 Meet Host Susan Banasky & Her Mum