This was the 4th Annual Shiveree, held at N. Glantz & Son in Golden Valley, MN. Things got into full swing around 9:30, with Scott Bouma of Scott's Signs (Grandville, MI) giving a talk on doing neat effects on HDU. He wasn't allowed to take up *too much* time, however...Dennis Gerathy was pumped up about his antique-looking signs and couldn't wait to have his chance to speak! Dennis pumped up the crowd with his 'Elvis the Signpainter' impersonation, then sent us off to have peanut butter and fried banana sandwiches for lunch! Naaaah...we really had a great lunch of chicken, supplied by N. Glantz.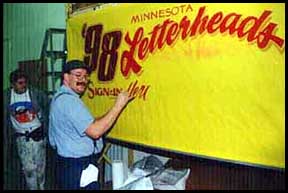 Mike Meyer of Mazeppa, MN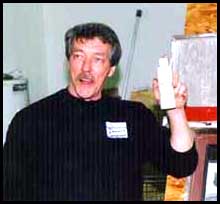 Dennis Gerathy of Redford, Michigan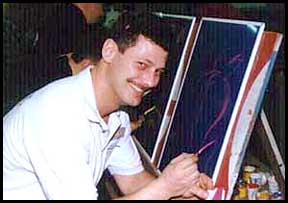 Our own AJSpeed from #letterheads chat
...aka Tim Wahlberg from Rochester, MN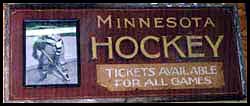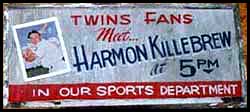 Dennis gave an excellent and energetic seminar on making "old" signs; he showed us how, with a few scraps of wood, the willingness to 'cut something old in half,' and an hour or so worth of time could produce an "oldie." He was so inspirational!
After lunch, there were several options: watch Dennis demonstrate making an 'old' sign, see Scott demo some techniques on HDU, work on panels, talk, etc...there were plenty of opportunities to see some great sign artists in action. When I grow up, I want to be just like 'em ;)