Hi, I'll make a start here, and anyone else can add their ten cents' worth below. It was a GREAT weekend! The worst problem is it takes two days to get warmed up, then it's time to think about winding down so you're not taking sticky paint home!

Sponsors' goodies were a really nice surprise- Graphic Art Mart provided two pallets of paint from 1/2 litre tins to 10 litre/2 gallon tins which was divided up, plus airbrush masks, Langnickel paint brushes, those straight line ruler thingies, some things we couldn't identify, some vinyl splitters, faux graining combs, squeegees... it was quite unexpected & very generous.

I'll download the pix from the camera, and optimise & post them tonight- if anyone wants to beat me to that, feel free- the more input the merrier!

Queenslanders were there in a good rollup- Pete & Suzy Bedgegood (& son Jack who's now 2) came down from Cairns (about 2600km north of Newcastle), and Pete did a brilliant job of airbrushing Aussie-John (Darth-Jordan)'s face on the washing maching, I mean fridge. Bernie Morrison from Innisfail (about 60km closer than Cairns) brought his mobile BSA signshop down, Army-Dave O'Hanlon, Jon Butterworth & I from the Darling Downs travelled 800, 800 & 880 km, & Phillip Ingram from Stanthorpe was the last of the Qld-ers.

From SA were Brett Sunstrom(Renmark, near Lake Bonnnney, last year's host, ) & Liam Uppill (Clare, SA), and from Victoria(Mildura) was Kev Browne, and I'm not sure who else.

The rest were NSWelshmen, & I'll leave it for someone else to fill in on them!


Jon & I arrived on Thursday evening to find that Ace Howison had done a great job building the workbenches, and all that was left was for us to make up the gilding racks/frames and break the customary glass panel to christen them! Pete Bedgegood arrived a few minutes later (from the airport) & we had them made up in no time. Ronnie Andrews from Canberra also arrived with his garden gnome kit! John Jordan had earlier just finished screen-printing the glass panels, so things were getting ready for a good start on Friday.

Technically, Friday's program was 10am-12 noon getting to know each other, then lunch, then 1pm start the weekend, but some many panels were already in full swing by 9am on Friday morning, with breakfast-on-the-go for the early risers.
I think we knocked off at about 1 am Sat morning to head off for bed, but others were still going, then there was activity already happening by sunrise Saturday, and it was still going at 2.30 am Sun morning when we went back to the motel for the night... etc etc etc as Letterheads meets usually go.

Anyone who wanted airbrushing advice had only to ask, and the same fro striping & scrolls. Bushie gave some panel marbelling demos, and I started some slate carving workshops, but the slate was as hard as a rock, and was not easy to carve, although the interest was high, so a few creatively decided to just size and gild their slate, flat, without carving it, then with variegated leaf, and cleaned up with an outline, it provided another facet to the creativity.

Paul Jordan spent some time teaching his father to chip glass, and those who wanted to (or were early enough) HAND-cut some masks & Paul was good enough to bring a stove, glue, and a sandblasting set-up. and we did our chipping. (well some chipped, while others just waited, and waited, and waited, while their panels refused to chip due to the humidity, even after three days beside the heater.) Scott Jordan did some great work too as a beginning striper!

Food- it was great- thanks to the ladies involved!
Kids- it was really good to see so many children getting involved while so young- including Erin, Brittany, Dion & Kyal, plus a few younger ones haveing their appetities whetted for when they grow up- Jack & Darcy included!

Ian Stewart-Koster, Nutgrove, Qld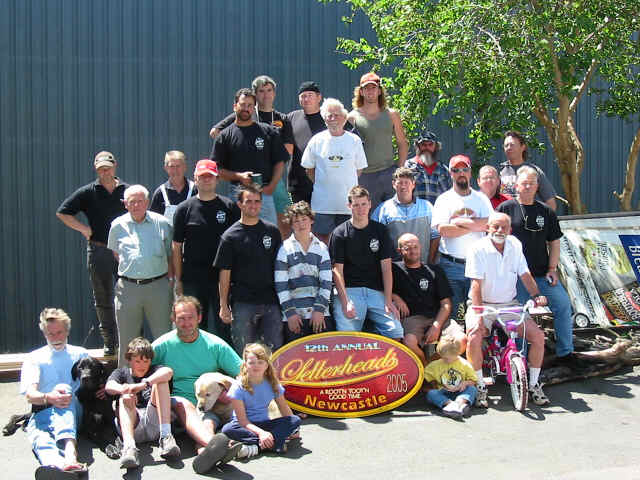 Click on Photo's Below to see larger picture