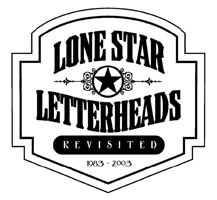 Back in 1983, Ray Chapman hosted his first Lone Star Letterhead Meet. Twenty years later, an offer to help a few others in Letterville learn hand lettering resulted in a second gathering. I'll let Ray tell you the story in his own words.
The 1983 gathering was the first Letterhead meeting in Texas and was just a year after the original Boise Bar-B-Q in the summer of '82 and Mike Jackson's Bash in October, 1982, in which many were introduced to the Letterhead spirit and completely changed their outlook on this profession. The Kansas City meet had been held in the summer of '83 and the Letterheads were off and running.
When I originally thought of having a gathering in Texas, I was working with my brother at Belco Signs in Harker Heights. The idea was just to have some local folks get together for an informal session. It turned out that we had over a hundred, with several states beside Texas being represented. For many it was their first glimpse of the Letterheads, including Alton Gillispie. Many went home with a new enthusiasm and a new dedication to this craft.
A total of 30 attended. A few only attended Friday and some only Saturday. Experience ranged from old timers to those just entering the trade. Everyone seemed to enjoy each other's company and there were a lot of mini-sessions of one-on-one exchanges.
Hollis Baker, retired owner of Hollis Baker Signs in Austin was probably the oldest attendee at 73. Hollis's shop is still in operation, now being managed by his son Greg. Gordon Baker, another son of Hollis, operates a shop in Georgetown, Texas. Both Hollis and Gordon were at the first Lone Star Letterheads gathering in 1983. Ray Skaines from League City, Texas, near Houston, came to the '83 meet and was back at this one. Several sign friends who own businesses in the Temple area came and freely exchanged ideas and inspiration.
The purpose of the 2003 gathering was mainly for me and some others to remember back twenty years, but also to expose some new folks to the art of hand lettering. The "family" atmosphere is present at any Letterheads meeting and I hope that these attendees left with a new found respect for our craft and for each other.

We had a "kitty" for those who wanted to contribute to the coffee fund. About a $100 was donated and I decided to send that amount to the American Sign Museum in honor of Rick Glawson. Will we do it again? Probably. Maybe not wait twenty years for the next one. It's a good way to get the shop cleaned up.
Click on the thumbnails
below to see a larger image
L-R: Hollis Baker, Mike Chapman, Ray Chapman, Fred Self, Roy Frisby, Theresa Dringenberg, Sue Avery, Steve Dowden, Taylor Blair, Billy Osborn, Rocky Howsden