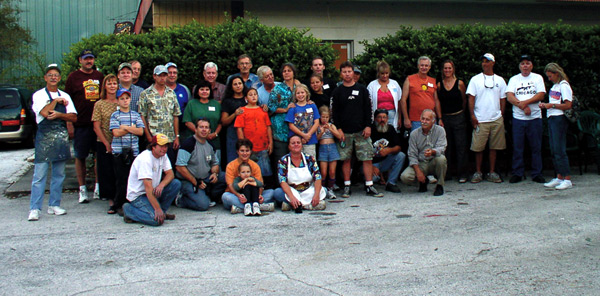 This year, Robbie and I decided to do a follow-up to our mini-meet last year. That one-day event was nice and mellow, but there just wasn't enough time to get much painting done, so this year we went for a 2-day event, and called it the Hogtown Panel Jam.
We are both new at this meet stuff, so we tried a few things, namely painting a 6'x28' mural. We were able to secure a spot on the stage at the Downtown Community Plaza here in Gainesville, and we opted to do an entertainment theme, on panels in the shop.
I think everyone who worked on it enjoyed themselves...I hope so anyway. It turned out pretty well, and I was able to secure some of that new anti-graffiti clear from 1-shot, in a matte finish, to put over the painting. Diamond Supply in Tampa supplied the 1-shot, and Kevin Ledbetter from 1-Shot arranged for is to get the clearcoat free...our deepest gratitude to both of these companies for their generous support of our efforts.
The mural will be installed in January of '05 and is a gift to the City and people of Gainesville, Fl, on behalf of the letterheads at the Hogtown Panel Jam. If there is enough interest, we will try another mural again next year, with a different theme. We had wanted to install the mural sooner, but the city has erected a huge ice skating rink directly in front of the stage where this is going, and there are racks of ice skates in front of the wall. Oh well...
Another feature of our meet was the "Hogtown Saturday Nite" pickin' party we had. Those of us who were there for that know how special it was...many thanks to Janet and Tammy for giving us some momentum...you made us sound good.
Robbie and I both would like to thank all those who attended, and we hoped you all had a good time. We want to keep doing this meet every year for a while and hope to have the opportunity to branch out into different areas of focus each time. We are talking about doing some glass projects next year, as well as some sort of mural, preferably a slightly smaller size than 28 feet! It's my hope we can get everyone who attended this year's meet to come back and have some fun with us again next Oct. Each time it should keep getting better....Who knows....we may have a special guest..!!
Regards
Jeff Ogden