My Trip To The Duck Pond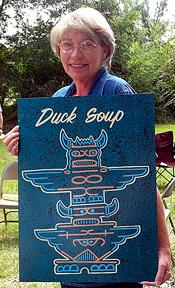 As a Lettervillian, I had not ventured far from the safe confines of my own residence. But when I heard that everyone was flocking over to the P.King Duck Pond, I couldn't resist.
I really wasn't certain that I deserved citizenship in such a fine professional community as Letterville. After all, many of my neighbors are icons in the sign business. They have worked diligently for years to learn the trade and have earned the respect and admiration of wanna-bes like myself. Nonetheless, I was curious. I wanted to see their work and actually touch it! I wanted to meet the people I had seen on the Bullboard and talked to in chat. So I packed up and journeyed off to McCalla Alabama to Pat King's "Duck Soup Splatter Jam".
As soon as I stepped out of the car I caught the enticing aroma of 1-Shot in the air. On the street out front I encountered a rather vocal character saying, "What took you so long? Hurry, you're missing some fun." He introduced himself as Old Paint (Joe Pribish from Pensacola.) I had imagined him as an older man, small and wiry. He is not old or small and is a very friendly person. I thought to myself that if the rest were even half as neighborly, I was in for a good weekend.
I entered via the duck footprint painted driveway. The first stop was the registration tent. There I met the "Duckette" Bobbi King. She is a very gracious lady who made me feel right at home. From there I proceeded on to the action with my arms full of goodies provided by sponsors such as Rapid Tac and Grimco.
The first person I recognized was Don Hulsey. He was working on an old Coca Cola sign. So I walked on over and introduced myself. He remembered me from my mugshot on the Bullboard. We chattered on about his wife Dora and the new twin grandsons. I felt like he was an old friend I hadn't seen in a long time, but we had never met. Now I was wondering. Is Letterville a virtual community, or is it a reality?
As I surveyed the scene I realized that there were so many faces that I had seen on the BB. It was amazing that I could name most of them and actually remember where they live, their specialties, spouse's names, and children as well.
The place was buzzing with activity. There were panels and projects being painted everywhere. A disc jockey's trailer was being painted as well as a race car. Timi Barrow was hand painting a McCalla Duck Soup can fashioned after the familiar Campbell's label. I had to pinch myself as I watched him work. He is truly an artist.
In the back of the shop I met the "Baby Doll" Coop's first banner across America. She is beautiful. I also met Coop and Treana. What a lovely couple. They are a joy to get to know.
When Rod (Ticks) Tickle from Austrailia arrived with R.T. Thomas, they wasted no time setting up the airbrushes. R.T. painted our names and his own duck design on each and every one of our T-shirts. Rod painted a refrigerator that was raffled off on the last day of the meet. That young man is nothing short of amazing, and not just to a newbie like myself. The old pros were heard letting out ooohs and ahhhs!
Judy Pate and her husband Roger were there from Albany Georgia. Judy was especially kind and helpful to me during the meet. She sat down with me and explained the jobs in her portfolio in detail. I admired all the portfolios I saw, but really received from her taking the time to share it with me personally. I also had the pleasure of having dinner with them on Friday evening.
Then there was Pat King! What can I say? If you've never met him you are missing something. It was evident that he and his wife had worked very hard putting this event together. There was plenty of planning and love put into it. He puts the Ever Ready Bunny to shame. He enjoys people almost as much as we enjoy him! His duck hat and splattered clothes fit his personality to a tee. He is a kind and loving person who gives unselfishly of himself. As busy as he was he took time to give me lots of good advice and some great tips about giving my signs a personal touch and making them stand out with a little extra zip. He also presented me with a panel that he had made for me. It was a totem pole with my name incorporated into the image. Thanks Pat, I'll treasure it always and never forget the kindness shown to me at my very first meet.
Another person I recognized from the BB was Mark Fair. I had admired his work and his wit from the beginning and had looked up to him as a kind of idol. Should I introduce myself or not? I really dislike meeting someone and discovering that they are not at all what I thought. Let me tell you that Mark Fair is about as real as they get. In two seconds flat you are as comfortable with him as you are with family and old friends. He has a real passion for the trade and is eager to share with you.
John Smith of King's Bay Signs in Kingston Georgia had a table set up outside and was working on a sandblasted HDU sign. He put it aside and was teaching Amy Brown and Cheryl Lucas the ins and outs of that facet of the sign trade. It was my observation that he would make a great teacher and perhaps he should open a school! He was sharing information and techniques with any and all who stopped by.
Monte Jumper from Norman Oklahoma was also very kind and helpful. He presented me with a brush. Then said, "Come on and I'll show you how to use it." He grabbed a sign blank and some 1-Shot and started whipping out some letters while explaining each stroke. He was very encouraging. Thanks Monte that brush is special to me.
I was honored to meet the Mayor and First Lady of Letterville. They were just wonderful. In talking to Steve it was evident that he has a passion for the Letterville of his dreams as well as a love for the people there. As we conversed I knew then that Letterville is indeed real.
It is NOT an imaginary place with an imaginary Mayor, nor imaginary residents, visitors and passers by. It is real to all of us, and I am just beginning to comprehend the reality of it all. We are bound by something intangible . Our streets are invisible but those who walk them are concrete and substantial. If you have never been to a meet you are missing out on the REALITY of it all. If you are not a Resident, keep visiting, all are welcome here. There are no city limits in Letterville.
Kathy Joiner
River Road Graphics
Ponchatoula, Louisiana