Trisca's Great Irish Adventure
---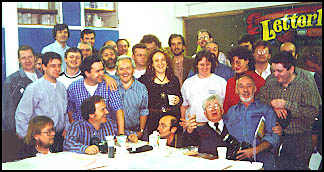 When my friend & "Sign Sister", Alyssa showed me the ad for "The Celtic Brushfest" in SignCraft, I was thrilled. I was planning a trip to Dublin for September as it was. The obvious thing to do was to push it up by a month. What better excuse could I ask for to head back to my old stomping ground. I lived in Dublin from 1983-1985 after graduating from Butera School of Art. I started my business there originally in 1984. I just had to attend Ireland's first "Letterheads Meet"!!!
I proceeded to create a month's vacation around these three days in October. I mean while in Ireland why not hop over to Italy. After all the only gold I use is "beaten" in Florence. The trip began to take shape as one big "write off".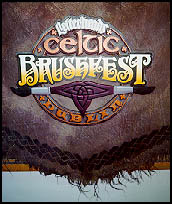 I headed to Italy before the Brushfest. After arriving in Florence I realized the language barrier was more of a problem than anticipated. Trying to locate "The Manetti Brothers", gold beaters, turned into quite a task. People kept sending us to jewelers, thinking of course that that was the kind of gold we were looking for. Plus we were hitting dead ends trying to find local sign people. The weekend was approaching and we were running out of time.
Finally I thought to look under metals & foils in the phone book and found the address there, but it was Saturday. Now we had to wait till Monday, our departure day from Milan, to visit. First thing that morning we headed to Ponte Alle Mosse, the street they were on. When the doors opened you could see it was a high security place, understandably. It was like getting into Fort Knox. Paolo Platania, spoke with us for a while, then offered to show us the operation. We had to agree not to take any photographs!
I was surprised and delighted to see that the workers were comprised of 90% women. Call me sexist, but I assumed it would be mostly men due to the strength required to "beat" the gold. They sit cutting the leaves to size placing the overage in a pile with great speed. All that gold was intoxicating, and we spent longer t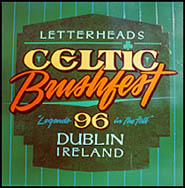 han we should have looking around. By the time we made it to the airport in Milan we were running so late that one of the "Aer Lingus" staff had to drive us out onto the tarmac to board our plane!
Upon our arrival at Dublin airport I was disappointed not to find a cardboard cutout of Peter McCullen, our host, waiting to greet us. I guess Butch Anton had not revealed his meet's greatest hits with Peter. That, or else Dublin airport has a stricter code of ethics than Fargo's airport.:)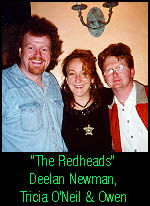 Poor Peter was inundated with calls. Although the meet was not supposed to start till Friday, I think he was surrounded by anxious visitors from Monday onward. He was even forced into starting the meet earlier in the day than planned by enthusiastic "Letterheads".
"The Celtic Brushfest" was a big success! For the first gathering of it's kind in Ireland I thought the turnout was great. The venue was The Bolton Street Technical School, right in the city. Quite an appropriate location really as "SignWriting" is part of their curriculum. I actually found myself asking the staff if there were any teaching positions open. Unfortunately there were not, so here I sit, in Boston, writing my memoirs!
"Letterheads" came from Wales, England, Canada, the US and various parts of Ireland. The largest assemblage was from County Cork in the South of Ireland. They turned out in full force. During the photo session they even broke into their own County's song, ushered in of course by "When Irish Eyes Are Smiling", sung by all.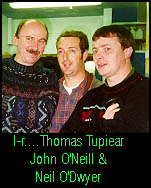 The projects were fantastic and varied. Dave Smith was working with gold all weekend: he is a master. He designed and silk screened beautiful glass pieces with a "Celtic Brushfest" theme for our gold leafing enjoyment. The project he brought for the meet was intense.
Denis Brown, (with one "n"), was one of the guest speakers and demonstrators. He displayed his talents with pen & ink. I have never seen calligraphy executed with such fluidity. His work is beautiful and profound.
David Kynaston demonstrated cracking varnish on the surface of signs to give them that aged look. John _________ spoke to us about the business aspects of running a small sign shop. We had the infamous "left handed" lettering race, which I had to switch to the right hand for.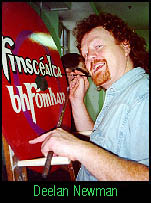 Myself and Audrey O'Mahoney, from Kinsale, Co. Cork, were the only two women in the business as signwriters. She also has her own business and shop. We were slightly outnumbered, but we didn't mind a bit.
Gerry, (who's last name I don't know), teaches at the technical school in Cork City. He taught Audrey and others among the group. He voiced clearly his support of women in the business and as a result had our undivided attention all weekend, (the women that is). He had some hillarious sign related stories.
Gerry is a 4th generation signwriter. He says that his wife tells him: "If you cut yourself you'll bleed paint"! I made sure to introduce him to Kevin Freeney who is 5th generation. Then there was Tomas Tuipear from Clonakilty, West Cork. I wish I had some photos of his transformational sign work. He takes entire shop fronts and changes the image of the shop completely.
I was lucky to see his photos at all. He is so humble he kept them shoved in his coat pocket. Someone had to remove them without his knowledge to show me. I was blown away. Tomas and I realized, after talking about the time he spent here in Boston, that at different times we had both worked for the same man. Then there was John O'Neill, from Dublin, who had worked, at one point for Sign Design, the same shop I had when I lived there. I met someone else that I used to work with there named Noel O'Connor.
I often wondered what happened to Noel, he was always such a gifted sign maker. Come to find out he has his own business now, right in Dublin. Neil O'Dwyer attended. He is from Tipperary. He does fantastic work and says he got alot of ideas from the time he spent living in Australia. All the coincidences and meeting new people made it even more enjoyable.
Peter and his girlfriend Sinead put in tons of work and from my perspective it paid off royally. The staff at the Bolton Street Tech were very helpful, the crowd of "Letterheads" were great fun and Peter remained the ever gracious host at all times.
Thanks to everyone for making it fun, informative and memorable. Tricia O'Neill, Signs Unique..... agent57sp@aol.com
---
[ Letterheads | Join Us! | Bulletin Board | Events | Find A Letterhead | Our Suppliers ]

Copyright © 1997 The Letterhead Website