Monticello Pinhead Meet
A Report by Dave Draper
---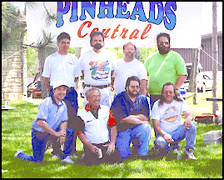 Take a bright blue sky, whispy white clouds, about 100 beautiful Street Rods, rock & roll music from the 50's, and a bunch of pinstripers, a huge craft show and what do you get? Overwhelmed with excitement like I did!
The Pinhead Meet was part of "Crusin' For Camp Courageous" fund raiser, which provides individuals with disabilities many activities in a camp setting in Monticello, Iowa. The Pinhead Central section was located in an outdoor area under some whispering pine trees. The Crowds watched on as they striped and lettered everything from mailboxes to automotive creepers.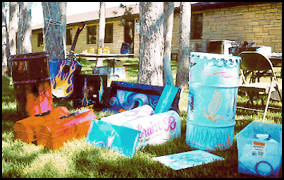 These decorated items them were auctioned to a very large crowd that attended. Around $740.00 was raised in the Pinhead auction. We even had a 4x8 race track set up to stripe, to see who was the fastest striper with the fewest mistakes. The best times were around 18 seconds with 1 boo boo!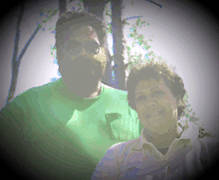 John Hulick hosted the Pinheads Meet. Several pinheads showed up at John & Sharron's country farm house the evening before the event, where they were treated to a evening campfire and broasted chicken. With plenty of beds, Sharron insisted they spend the night, and then made breakfast for all the next the morning. What a host!


Here are the Pinheads and Letterheads that were on hand in alpabetical order:
Dave Draper from Bloomington, Illinois
Terry Egger from Dayton, Ohio
Hugh Hoffman from Mt. Vernon, Iowa
John and Sharron Hulick from Mt. Vernon, Iowa
Lee Hulick ( Johns brother ) New Carlisle, Ohio
Jerry J. Kehoe, Hopkinton, Iowa
Jack Lindenberger and his wife from Evansville, Indiana
Shane Syx from Fairborn, Ohio

Mark you calanders for mid-May 1999 and join the fun next year!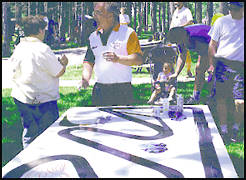 ---
[ Letterheads | Join Us! | Bulletin Board | Letterhead Shops | More Meets | Our Suppliers ]
Copyright © 1998 The Letterhead Website