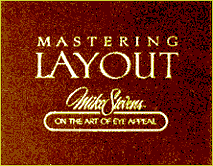 Click here to order this book or search for additional books
This book is available from SignCraft Magazine at a cost of $29.95
Order by phone toll free, 24 hours a day!
1-800-204-0204 or 1-941-939-4644 outside the US and be sure to use order number SCL-256 so they know you saw it here.
Do you have have a
favorite book or video
that the rest of us
should know about?

Mastering Layout : Mike Stevens On The Art Of Eye Appeal
by Mike Stevens
---
In this comprehensive book, the late Mike Stevens strives to take the mystery out of creating effective sign layouts. His approach emphasizes that good design is a learned skill and not something you're born with or without. Mike provides the tools needed to understand layout, alphabet choice, color use, and more. Many of us believe this is the best book ever written on layout! Thirteen complete alphabets are also included.
Softbound...126 pages, 10-by-8 inches
#SCL-256 $29.95 (plus S & H)

Review by Steve Shortreed
The SignMan...Fergus, Ontario

If I was ever forced to give up all my books except for one, this is the book I would keep. I can't think of any one source that has helped me design better and more effective signs over the years than this gift the late Mike Stevens left to us all.

The first chapter on Natural Layout is a goldmine once you understand the ideas Mike is talking about. I had the privilege of sitting in on 2 of his workshops over the years and I have seen longtime signmakers instantly drop bad habits and improve their layouts following the suggestions in this book. It's simple, but powerful stuff!

What Mike really did with this book was give us a vocabulary to describe design elements that were just abstract ideas in the past. Terms like negative space, line value, formal vs informal layout and my personal favorite...compulsive graphic relativity.

I could go on forever about the virtues of this book. Every new employee at our shop was given a copy of their own. I suggest you do the same.