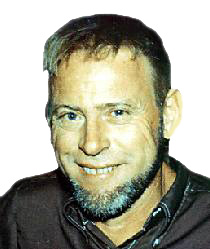 The Life And Times Of
Von Dutch
By Bob Burns
Pinstriping on cars and motorcycles was a dead art when 15-yr. old Kenny Howard went to work in George Beerup's motorcycle shop in the mid-forties. The last automobile striping on an american car was done by General Motors in 1938. Then, in the mid-fifties, customizers brought it back in style in mostly radical form believing they were doing something entirely new! Kenny, the motorcycle mechanic was the man who started this "new" vogue under the name "Von Dutch."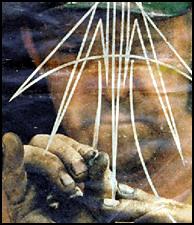 Dutch's Dad was a well known designer, sign painter and goldleaf man in the South LA area known as Maywood. The well known Western Exterminator Logo is an example of his work that lives on today.
Dutch would occasionally bring a bike home from Beerup's shop borrow his Dad's brushes to put pinstripes all over it. When Beerup saw what dutch had accomplished, he couldn't believe it, and moved him from mechanical work to painting and striping. For the next decade, he built a reputation that he really never wanted.
" I'm a mechanic first." he used to say, "If I had my way I'd be a gunsmith! I like to make things out of metal, because metal is forever. When you paint something, how long does it last? A few years, and then it's gone!"
For the next several years Dutch painted and pinstriped nothing but motorcycles, moving from shop to shop, saturating each area. By the mid-fifties he had done thousands of bikes, but very few cars. Striping cars started as a joke when he was working at Al Titus' motorcycle shop in Linwood, California. The whole car striping idea started to 'snowball' and he was there.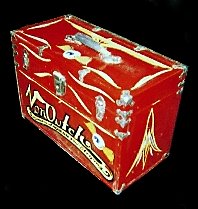 He was approached by a guy known as the Crazy Arab, who thought it could be worked into a full-time occupation. Dutch didn't believe it, but he tried it, and for the next three years he worked at it until it just drove him nuts!
When Dutch quit striping in 1958, he was still in great demand. Customizers from all over the country had heard of him, and cars came from as far away from the L.A. area as New York to be "Dutched." When a car owner came to him, he didn't tell Dutch what he wanted, he just told him how much 'time' he wanted to purchase. The designs were up to Dutch, and many of them were created way down deep in the recesses of his eccentric imagination. He had hundreds of imitators and followers; Shakey Jake, The Barris Brothers, Tweetie, Slimbo, Big Daddy Ed Roth and many others.
Dutch On Money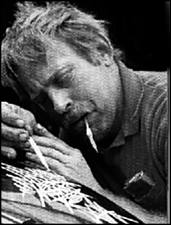 Despite his genius and popularity, Dutch never made any money from striping. Money was something he detested. In this quote from a 1965 article Dutch explains his thoughts on money.
"I make a point of staying right at the edge of poverty. I don't have a pair of pants without a hole in them, and the only pair of boots I have are on my feet. I don't mess around with unnecessary stuff, so I don't need much money. I believe it's meant to be that way. There's a 'struggle' you have to go through, and if you make a lot of money it doesn't make the 'struggle' go away. It just makes it more complicated. If you keep poor, the struggle is simple. "
Every so often he would double his rate just to weed out the undesirables. So many were demanding his services that he just couldn't stand it anymore. It didn't work! No matter what he charged, they just kept on coming! He hated the commercial aspects of what he did. He believed that you couldn't focus on doing good work if you worried about the money, and 'good work' was everything to Dutch!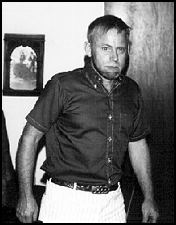 So, after about 10 years of hiding out, Dutch surfaced in Arizona, where he made guns and knives, did some custom paint, bodywork, and pinstriping. He and his wife and kids tried. somewhat, to live like a 'normal' family.....in a house...with a bar-b-que....and a station wagon.
The Brucker Years
The domestic life lasted until the mid-seventies when Dutch dropped everything, and moved back to California to take over the job vacated by Big Daddy Roth at "Cars of the Stars." He would be the general fabricator and custodian of the Bruckers Family's Collectibles. The Bruckers gave Dutch a house to live in and appointed him work hoursof 9 to 5. Much to everyone's amusement, Dutch started calling himself J.L. Bachs, short for Joe Lunch Box.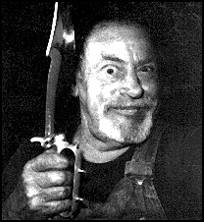 When 'Cars of the Stars' closed up. Dutch moved to Santa Paula, California along with the Brucker Collection and lived his remaining years right there at the warehouse, behind a locked enclosure, mostly running everyone off, especially those wearing any kind of uniform or carrying a clipboard. He also shot at a guy who said he was from Cleveland! Dutch got to be really eccentric-amundo!
It was during these years that he turned out some beautiful knives, all hand-done and brass-etched. He sold about 100 of them for $300 each. Today they would easily fetch $3,000! He also built some extraordinary motorcycles and lots of other stuff, like (no kidding) a steam-powered TV set. He also built the "Kenford"....1956 pickup with a '47 Kenworth cab combo!
For pinstripers, Von Dutch is the one person most responsible for the existence of the craft. He's also responsible for other custom touches we're all familiar with as he was also the creator of the motorized rollerskate and putting VW engines in anything but VW's. He was an expert gunsmith, knife-maker, and fabricator. To those who knew and understood him (not to many) he was a Great Philosopher.
The Flying Eyeball
No discussion of Von Dutch would be complete without touching on the subject of his famous Flying Eyeball logo. What's the story behind it?
According to Von Dutch, the flying eyeball originated with the Macedonian and Egyptian cultures about 5000 years ago. It was a symbol meaning "the eye in the sky knows all and sees all", or something like that. Dutch got a hold of this symbol and modified it into the flyin'eyeball we know of today. He always believed in reincarnation, and the eyeball, somehow, was tied to that.There have been numerous "incarnations" of this design over the years. It still remains an icon of the '50s and '60s street rod crowd. Now ya know!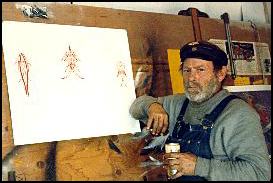 Dutch lived life hard. His bad habits eventually caught up with him, and he developed a stomach abscess. He didn't like doctors, but towards the end, the pain got so bad, he finally saw a doctor. By then it was too late. Dutch died on the 19th. of September, 1992, leaving behind his two daughters, Lisa and Lorna.
On a personal note.... The reason I'm in this business is solely due to Von Dutch. He 'spider-webbed' my '49 Ford Dashboard in 1954 and I haven't been right since.
I striped my first car ....a 1951 Packard...soon after, then over the course of the next 15 years, I practiced on the side while working at a "Real' job. In 1969, I started hanging out with Dutch to get my mind 'Right." He worked on me pretty good, and here we are today.
I guess the ole' man is turning over in his grave (actually, his ashes were thrown in the Pacific) now that the computer is here! "Progress"....something he hated.